US JCPOA Pullout Has Created Problems for EU, Energy Commissioner Says
TEHRAN (Tasnim) – The US decision to leave the 2015 nuclear deal between Tehran and world powers has "created problems" for the European Union, EU Commissioner for Energy and Climate Miguel Arias Canete said in talks with Iranian Foreign Minister Mohammad Javad Zarif in Tehran.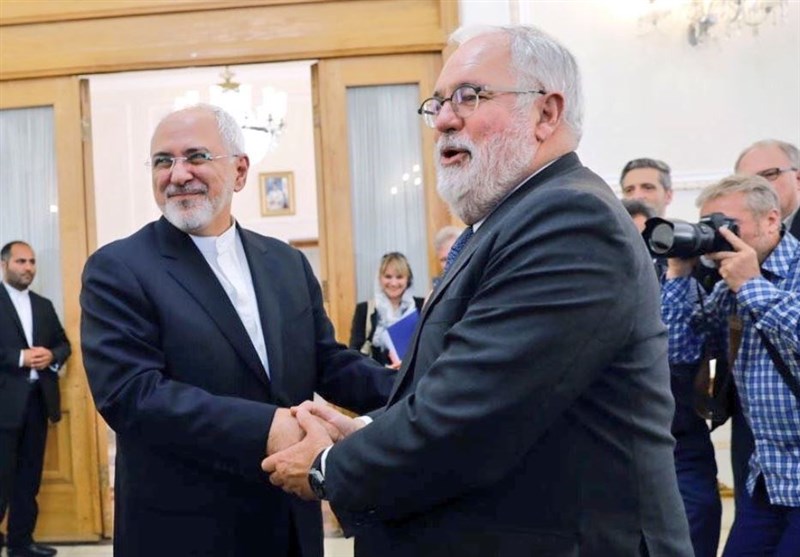 During the Sunday talks, the EU Commissioner said European states' unity to keep the achievements of the Joint Comprehensive Plan of Action (JCPOA) has gained significant importance in the wake of the US withdrawal from the 2015 deal.
He further said that the EU is resolved to keep the Iran nuclear deal and help European companies maintain their cooperation with the Islamic Republic.
"The US withdrawal from the JCPOA has created problems for the EU but the message of the bloc to Iran is that it is seeking to continue cooperation with Iran and preserve the nuclear deal," he stated.
For his part, Zarif underlined that after the US pullout from the nuclear deal, the EU is expected to preserve the JCPOA's achievements more than ever.
"Under the current circumstances, the EU's political will is not enough to preserve the nuclear deal. The EU needs to take more practical strides and increase its investments in Iran if it is to continue its economic cooperation with the Islamic Republic," he said.
In a speech from the White House on May 8, Trump accused Iran of sponsoring terrorism and seeking nukes before announcing the US withdrawal from the 2015 agreement between Iran and the Group 5+1 (Russia, China, the US, Britain, France and Germany).
Following the controversial decision, Iranian President Hassan Rouhani said Iran weighs plans to remain in the agreement with the other five parties, provided that they ensure full benefits for Iran.
Leader of the Islamic Revolution Ayatollah Seyed Ali Khamenei has underlined that any decision to keep the deal running without the US should be conditional on "practical guarantees" from the three European parties to the JCPOA.