General Soleimani Lauds Rouhani's 'Timely' Remarks against US, Israel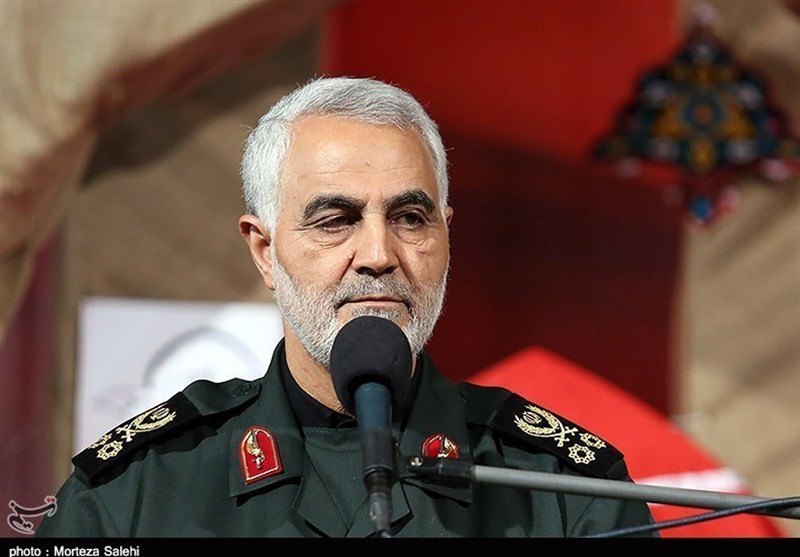 TEHRAN (Tasnim) – Commander of the Islamic Revolution Guards Corps (IRGC) Quds Force Major General Qassem Soleimani expressed his gratitude to Iranian President Hassan Rouhani for his recent remarks about the US's threats to cut Iran's oil exports and his comments against the Tel Aviv regime.
In a letter to Rouhani on Wednesday, Major General Soleimani described as "a source of pride" the president's comment that if Iran's oil is not allowed to be exported, then there will be no guarantee that other countries in the region would be able to export theirs.
The commander also praised Rouhani's "valuable" remarks on the Islamic Republic's stance toward the Zionist regime of Israel.
"This is the same Dr. Rouhani that we knew and still know, and the one who should be. You made our dear Leader, the great nation of the Islamic Iran, and the world's Muslims proud by making such wise, valuable and strong statements," he added.
Major General Soleimani further described Rouhani's remarks as "timely, wise, and correct", and said he is ready to help implement any policy that serves the Islamic Republic's interests.
On Tuesday, the Iranian president appeared to threaten to cut oil shipments from neighboring countries if Washington presses ahead with its goal of forcing all countries to stop buying Iranian oil.
"The Americans have claimed they want to completely stop Iran's oil exports. They don't understand the meaning of this statement, because it is nonsense that Iran's oil is not (allowed to be) exported, while the region's oil is exported," the president's official website quoted him as saying.
When asked at a news conference in the Swiss capital of Bern later on Tuesday whether those comments constituted a threat to interfere with the shipping of neighboring countries, Rouhani said, "Assuming that Iran could become the only oil producer unable to export its oil is a wrong assumption … The United States will never be able to cut Iran's oil revenues."
In his Tuesday speech in Bern, Rouhani also reacted to his Swiss counterpart's remarks on the recognition of the Zionist regime and underlined that Iran views the Israeli regime as illegitimate and condemns its aggressive policies in the region.