US Seeking to Spread Public Discontent in Iran: Defense Minister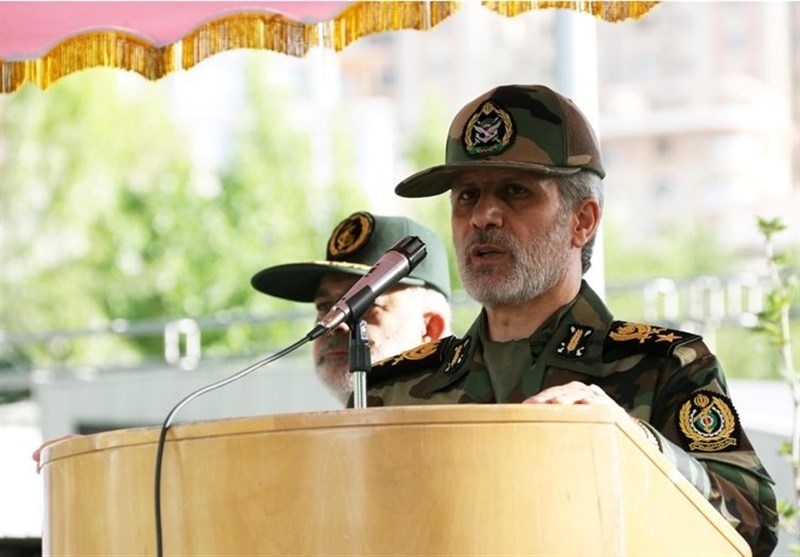 TEHRAN (Tasnim) – Iran's Defense Minister Brigadier General Amir Hatami said the US, after facing defeats in various battlefields against the Islamic Republic, has resorted to a strategy to hit the country by fomenting public discontent and driving a wedge between the people and the Establishment.
"Today, the flimsy coalition of the arrogant, reactionary and hypocritical (countries) led by the US is seeking to portray the Islamic Republic of Iran's situation as critical," Brigadier General Hatami said, addressing a gathering of senior officials of the Defense Ministry in Tehran on Tuesday.
The coalition is trying to implement the idea of driving a wedge between the Islamic Establishment and the people of the country through waging psychological warfare and spreading public discontent, he added.
Over the past four decades, Iran has managed to overcome difficult situations in an "unequal battlefield", like the Iraqi imposed war in the 1980s, internal turmoil, sanctions and international alliances against it, the commander said.
Brigadier General Hatami went on to say that now, the Islamic Republic is much stronger and more unified than before and enjoys "an active deterrent power".
The remarks came a few days after a number of protesters in Tehran reportedly swarmed the capital's historic Grand Bazaar on June 18 and forced shopkeepers to close their stalls, months after similar demonstrations rocked the country.
The protests erupted after the Iranian rial dropped to 90,000 to the US dollar on the country's black market, despite government attempts to control the currency rate.