General Soleimani Hits Back at Trump over Threatening Iran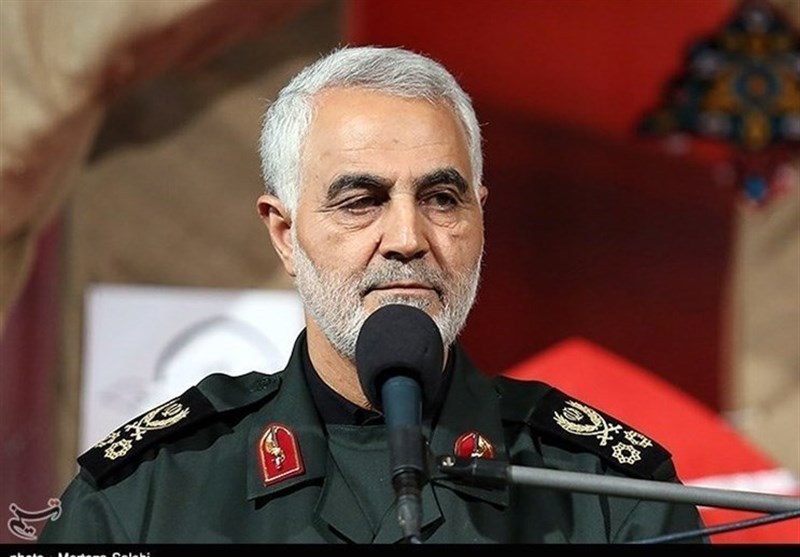 TEHRAN (Tasnim) – Commander of the Islamic Revolution Guards Corps (IRGC) Quds Force Major General Qassem Soleimani shrugged off US President Donald Trump's recent threats against Iran, saying if the US were to begin a war, it would be Iran that would finish it.
"What have you been able to do (to us) over the past 20 years that you did not do and are threatening us now?" the senior commander said in a speech in the western city of Hamedan on Thursday, referring to the US president's recent tweet warning Tehran of dire consequences if it stands against Washington.
"You came to Afghanistan with tens of tanks and armored vehicles and hundreds of advanced helicopters and committed crimes (there). What … have you achieved between 2011 and 2018 with 110,000 troops (on the ground in Afghanistan)? You are now imploring the Taliban (to negotiate with you)."
He also reminded Trump that the US and Israel suffered a humiliating defeat in the 33-day war on Lebanon in 2006 and had to concede to Hezbollah resistance movement's demands for ending the war.
"Gambler Trump! I alone will stand against you. We, the Iranian nation, have gone through tough events. You (may) begin a war, but it is us who will end it. Go ask your predecessors (about it). So stop threatening … us. We are ready to stand against you."
On Sunday, Trump threatened Iran of severe "consequences" after Iranian President Hassan Rouhani delivered a speech warning the US that any confrontation would lead to the "mother of all wars".
The Iranian president cautioned Trump about pursuing hostile policies against Tehran, saying, "Peace with Iran is the mother of all peace and war with Iran is the mother of all wars."
"You are not in a position to incite the Iranian nation against Iran's security and interests," Rouhani said, in an apparent reference to reports of efforts by Washington to destabilize Iran.
The Trump administration has launched an offensive of speeches and online communications meant to foment unrest inside Iran and support anti-Iranian groups, US officials familiar with the matter said.
"Mr. Trump! Do not play with the lion's tail, (because) you'll regret it. You are unable to provoke the Iranian nation against Iran's security and interests," Rouhani said.
During a recent visit to Austria, Rouhani pledged that Tehran will stand firm against the US threat to halt Iranian oil shipments, saying no other country in the region could export oil if Iran is to be deprived of oil exports.
A number of top Iranian military officials supported the idea afterwards, saying Iran has the ability to shut down the Strait of Hormuz if necessary.