Regional States Spend $137bln to Bring Chaos to Region, Iran: Minister
TEHRAN (Tasnim) – Iranian Defense Minister Brigadier General Amir Hatami warned against foreign plots to sow discord between the country's people and government and said some regional governments have spent $137 billion to bring chaos into the Islamic Republic.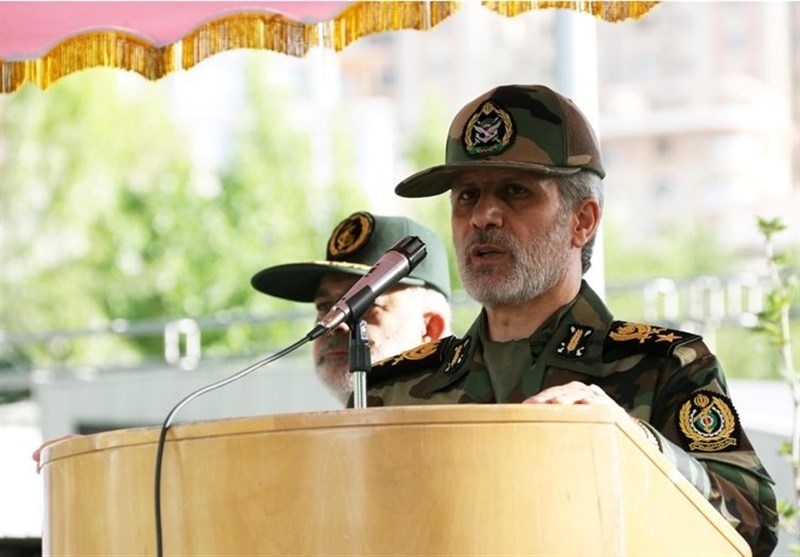 In a speech on Saturday, Brigadier General Hatami deplored foreign attempts to create division between the Iranian people and government as "a threadbare strategy" by "sworn enemies" of the country over the past 4 years.
He further described the formation of terrorism in some Middle Eastern countries, including Iraq and Syria, as "a big conspiracy" to hit the 1979 Islamic Revolution and said the enemies had sought to "institutionalize" insecurity and chaos in the region but their plots were foiled by the vigilance and wisdom of the Leader of the Islamic Revolution and the preparedness of the resistance forces.
"One of the regional countries has admitted to spending $137 billion to materialize its plots and bring chaos to Iran and support terrorist groups in Iraq and Syria," Brigadier General Hatami stated.
Accordingly, the Americans and some of its Western allies have spent about $500 billion to create insecurity in the region, the commander noted.
In recent years, the Middle East has been plagued with Takfiri terrorist groups like Daesh (also known as ISIS or ISIL), which are believed to have been created and supported by the West and some regional Arab countries.
However, Iran is considered by many experts as the "island of stability" in a region which faces many security challenges.
In August 2016, Leader of the Islamic Revolution Ayatollah Seyed Ali Khamenei highlighted the strong security in Iran despite crises and insecurity in the region.
"Thank God and through the appreciated efforts and endeavors of the military and security forces, the country enjoys a strong security shield while regional countries are filled with incidents and insecurity," the Leader said.