American Officials Never Been Honest: Iran's Zarif
TEHRAN (Tasnim) – Iranian Foreign Minister Mohammad Javad Zarif described US President Donald Trump's recent calls for direct talks with Tehran as "propaganda" and said if they want to prove their honesty, they should go back to the 2015 nuclear deal.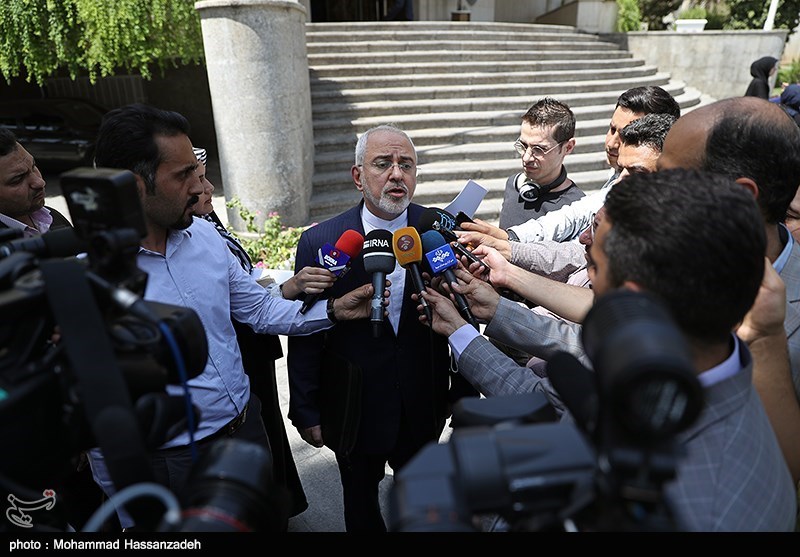 "The Americans have never been honest and Trump's move was propaganda," Zarif told reporters on the sidelines of a cabinet session in Tehran on Wednesday.
"The main reason for it is that Tramp has no concern for the Iranian people or (his) international obligations," the top diplomat added.
"Trump's main goal is opposing the Iranian people (and what proves this is that) the first batch of sanctions relates to planes," Zarif said, adding that Iran had been planned to receive 200 passenger planes but the purchase was canceled because of the US sanctions.
"The planes were to be used by the Iranian nation, so they are lying and their target is the Iranian nation," he added.
If the US wants to demonstrate its honesty, it should return to the nuclear deal known as the Joint Comprehensive Plan of Action (JCPOA) and pay compensation to the Iranian people because of the suffering it has inflicted on them since 1953, Zarif stated.
The comments came after Trump last week voiced a willingness to meet with Iran's leadership, without preconditions, "whenever they want."
"I would certainly meet with Iran if they wanted to meet," Trump said during a joint news conference at the White House alongside Italian Prime Minister Giuseppe Conte on July 30.
"I do believe that they will probably end up wanting to meet. I'm ready to meet whenever they want to," he added.
"No preconditions," he added. "They want to meet, I'll meet, whenever they want."
On May 8, Trump pulled his country out of the JCPOA, which was achieved in 2015 after years of negotiations between Iran and the Group 5+1 (Russia, China, the US, Britain, France and Germany).