British Police Say Incident outside UK Parliament Being Treated as Terrorism
TEHRAN (Tasnim) - A man has been detained on suspicion of terrorist offenses, British police said on Tuesday, after a car hit pedestrians and crashed into a barrier outside the British parliament in central London.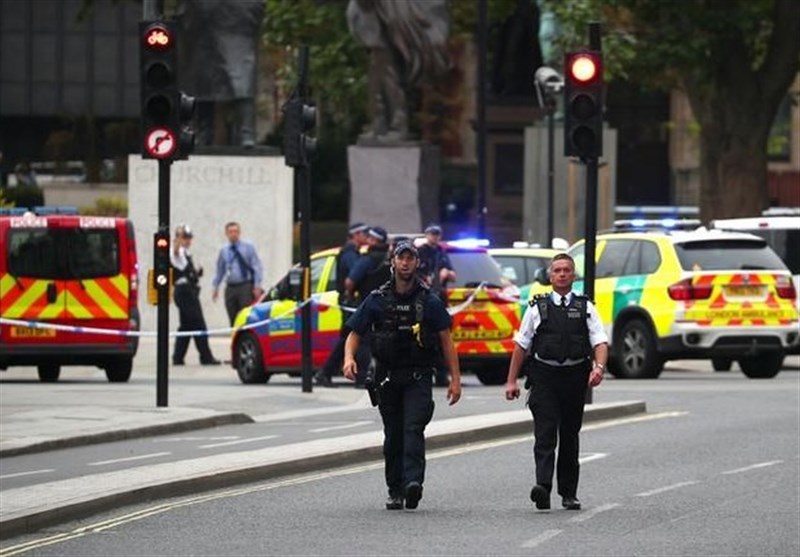 Police said they were treating the incident as a terrorism-related and the driver, aged in his late 20s, was in custody at a south London police station, Reuters reported.
"He was arrested on suspicion of terrorist offences," the Metropolitan Police said in a statement. "There was nobody else in the vehicle, which remains at the scene and is being searched. No weapons have been recovered at this stage."
London Ambulance tweeted: "We have treated two people at the scene for injuries that are not believed to be serious and have taken them to hospital."
Footage on social media showed heavily armed police response units arriving at the scene, with the area outside the Parliament building in central London cordoned off, The Straits Times reported.
Images showed police holding the man, dressed in jeans and a black puffer jacket, in handcuffs.
Witness Jason Williams spoke to ITV's Good Morning Britain about the incident. "Basically, I've seen a man driving a vehicle, and he's gone into one of the bollards. There was a loud bang," he said.
"Straightaway, I thought 'Oh no, this is another terrorist attack'. So I've just started to run and the police were saying 'get out, get out of the area'. It (the car) was behind me. I didn't see anyone else involved. I just saw this one vehicle, so it seems to be deliberate," he added.
Another witness, Ms. Ewalina Ochab, told the Press Association: "I think it looked intentional - the car drove at speed and towards the barriers."
She said: "I was walking on the other side (of the road). I heard some noise and someone screamed. I turned around and I saw a silver car driving very fast close to the railings, maybe even on the pavement."
No one is being allowed entry to Parliament. As Parliament is in recess for summer, most lawmakers are not using the building.
Westminster Underground station, close to Parliament, was also closed.
Sky's political correspondent Tom Parmenter said "the police response is very significant", with more officers arriving at the scene.
"Police drafting in more resources as we speak... Some of them plain clothes, some of them in uniform. The cordon is stretching significantly. The judgment of the emergency services is that their response is proportionate to the incident they are dealing with. We still don't know the motive for why that car drove at those barriers," he said.
In March 2017, Khalid Masood, 52, ploughed a car into pedestrians on nearby Westminster Bridge, killing four, before he stabbed to death an unarmed police officer in the grounds of Parliament. He was shot dead at the scene.
It was the first of five attacks on Britain last year which police blamed on terrorism.
Security expert Chris Phillips told ITV's Good Morning Britain: "Clearly this vehicle has crashed into the barriers. The barriers are there to protect the building and the people inside. They've been there a long time actually.
"I think one of the biggest issues for police officers when they approached the vehicle was could it explode. So, the fact that the officers have got in there, got the man out and are dealing with it is a really good sign. This could well be some form of an attack that's not quite worked properly for the attacker."