Diplomats to Follow Up on Caspian Convention in Azerbaijan: Kazakh FM
TEHRAN (Tasnim) – Deputy foreign ministers of the five Caspian Sea countries are slated to meet in the Republic of Azerbaijan in fall to discuss the recently-signed convention of the legal status of the Caspian Sea, foreign minister of Kazakhstan announced Tuesday.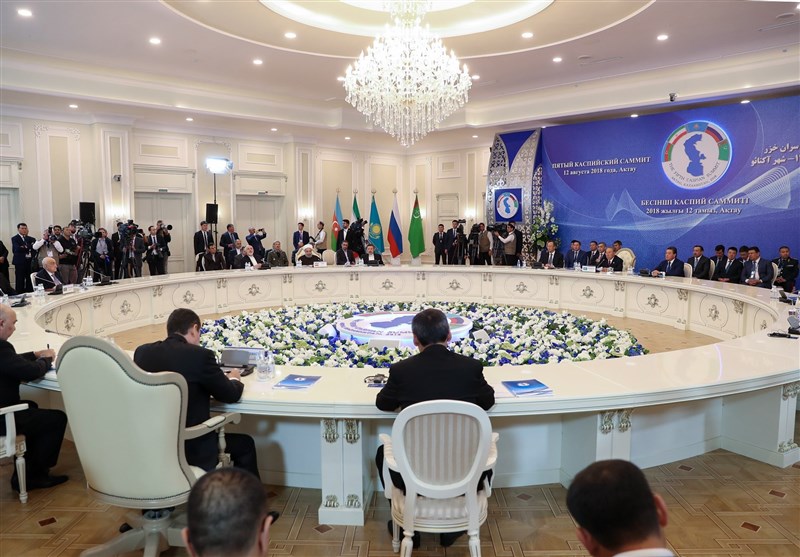 "As mandated by the heads of state, and according to the agreements formalized in the adopted documents, this meeting must take place not later than in six months. Moreover, we already have an agreement that in autumn of this year, the group will meet and begin work immediately. Tentatively, we are talking about a meeting in Azerbaijan," Tass quoted Kazakh Foreign Minister Kairat Abdrakhmanov as saying on Tuesday.
According to the Kazakh minister, the scheduled consultations will focus on the ways to carry out the agreements achieved in Aktau within the framework of the Caspian convention.
"According to the convention itself and in order to comply with it, the foreign ministers of the Caspian states, who had met in the wake of the summit, decided to create a special mechanism, a group under the aegis of the foreign ministries that would work on realizing the provisions of the convention. In particular, they will work on such a fundamental and important document as the agreement on the method of establishing the so-called straight baselines," Abdrakhmanov noted.
A summit of leaders of the Caspian littoral states concluded in the Kazakh city of Aktau on Sunday with a long-awaited convention on the legal regime of the large lake.
The five littoral states - Iran, Russia, Turkmenistan, Kazakhstan and the Republic of Azerbaijan- also signed six other agreements in the summit.