Shots Fired at US Embassy in Turkey
TEHRAN (Tasnim) - Shots were fired at the American embassy in Ankara on Monday amid escalating tensions between Turkey and the US.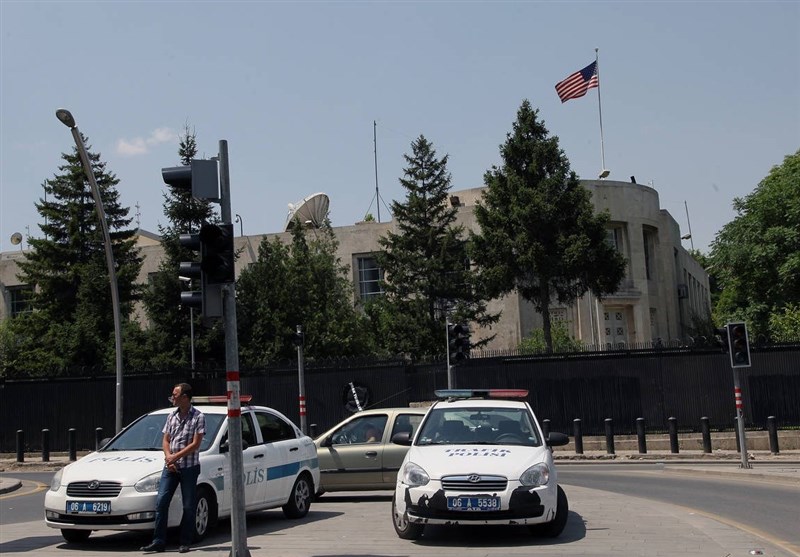 Several gunshots were fired from a vehicle at the diplomatic outpost around 5am, the Turkish broadcaster CNN Turk reported. At least one of them hit the glass of the security cabin at the main entrance to the embassy. No one was reported hurt.
A spokesman for the US embassy confirmed that a security incident took place, adding: "We have no reports of any injuries and we are investigating the details. We thank the Turkish National Police for their rapid response."
Donald Trump imposed sanctions on two Turkish minsters at the start of August over the continued detention of Andrew Brunson, an American evangelical pastor who has been held on espionage and terrorism charges for almost two years, The Financial Times reported.
Later, the US president doubled the tariffs on Turkish steel and aluminum, triggering a tit-for-tat trade war that led Recep Tayyip Erdogan, the Turkish president, to announce a boycott of American electronics. Mr. Erdogan has insisted that he will not back down in the dispute.
The row between the two Nato allies sparked a currency crisis in Turkey as the lira suffered volatile swings and falling as much as 17 per cent on a single day.
The currency has strengthened since its record low at the start of last week, but is still down 37 per cent against the dollar since the start of the year, piling pressure on indebted corporates and the banking sector.
Mr. Erdogan has accused the US of waging "economic warfare" against his country.