Behdad Salimi Bids Farewell to Weightlifting
TEHRAN (Tasnim) – Iranian super heavyweight weightlifter Behdad Salimi announced his retirement after winning a gold medal in the 2018 Asian Games on Monday.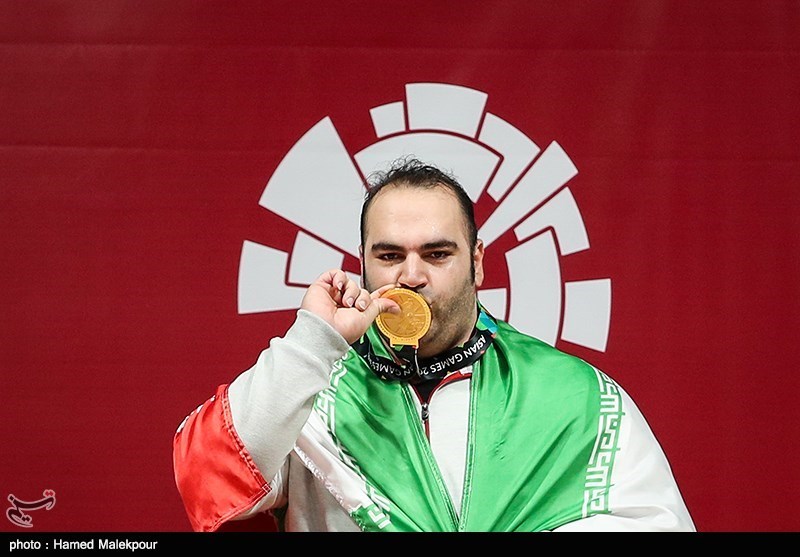 Salimi claimed a gold medal in the men's +105kg in Indonesia by lifting 461kg in total.
The 28-year-old weightlifter had already won two gold medals in the 2010 Asian Games in Guangzhou and the 2014 Asian Games in Incheon.
Salimi made a name for himself in the 2010 Asian Games after winning a gold medal with a total lift of 440kg.
He won his second Asian Games gold four years later in Incheon with 465kg.
Salimi snatched his most valuable award at the 2012 Summer Olympics, winning a gold medal at ExCeL London for a total lift of 455kg.
Salimi has won two World Championships gold medals as well.
First, he took a gold medal in 2010 in Antalya, Turkey with a total of 453kg.
He also claimed a gold medal a year later in Paris, France by lifting 464kg.
In 2015 World Championships in Almaty, Kazakhstan Salimi won a silver with 457kg and three years later he took a bronze medal in Anaheim, the United States with 453kg.
Furthermore, Salimi has claimed three gold medals in the Asian Championships.
He has won three golds in Taldykorgan, Kazakhstan (2009), Tongling, China (2011) and Pyeongtaek, South Korea (2012).