Iraq's New Parliament Meets as Rival Blocs Vie for Majority
TEHRAN (Tasnim) – Iraq's newly-elected parliament held its first session on Monday as two blocs vied for the right to form a new government.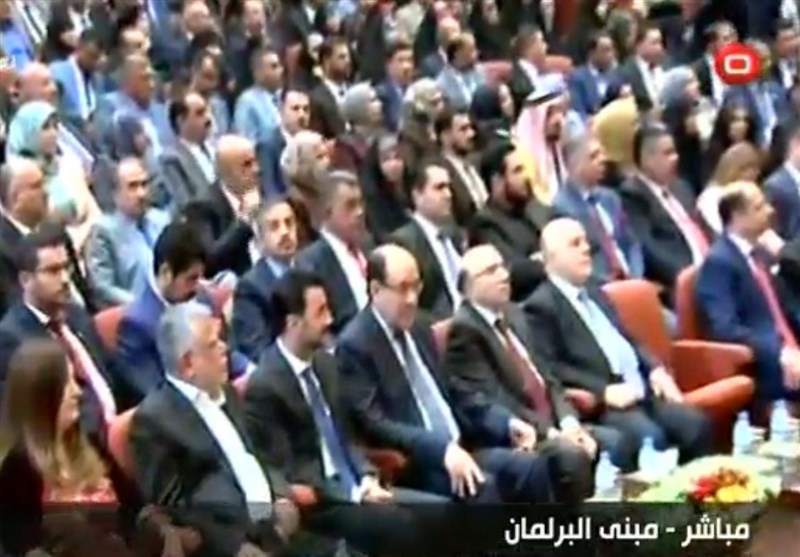 The session opened with a prayer and an orchestral performance of the national anthem, as lawmakers sat for the first time since national elections were held in May, AP reported.
The new parliament faces the twin tasks of rebuilding the north of the country following the war against Daesh, while rehabilitating services to the south, where severe water and electricity shortages have fueled protests.
"We must focus in the next stage on reconstruction, services, and providing jobs. It is the time for economic reforms and expanding our security achievements," said caretaker Prime Minister Haider al-Abadi in an address to parliament.
Al-Abadi, who came to power in 2014, oversaw the war on the terror group after the militants swept through the north of the country.
Lawmakers must now select a parliament speaker before electing a president. The president then appoints a prime minister to form a government.
Two factions claim to hold the most seats in parliament and therefore the right to name a prime minister.
A coalition led by al-Abadi and cleric Moqtada al-Sadr has the support of the US, while an alliance between former Prime Minister Nouri al-Maliki and militia leader Hadi al-Ameri is backed by the Iraqi nation.
But it is not clear if either alliance has an outright majority, and al-Maliki is said to be trying to woo lawmakers from al-Abadi's bloc to switch sides. Al-Maliki and al-Abadi are both leading members of the Islamic Dawa party, which remains divided over the longstanding rivalry between the two men.