Russia, Iran, Turkey to Continue Talks on Syria's Idlib: Diplomat
TEHRAN (Tasnim) – Russia's Ambassador to the United Nations Vasily Nebenzya said Moscow plans to continue talks with Tehran and Ankara on ways to help end the suffering of the Syrian people in the northwestern province of Idlib, the last major terrorist stronghold in the Arab country.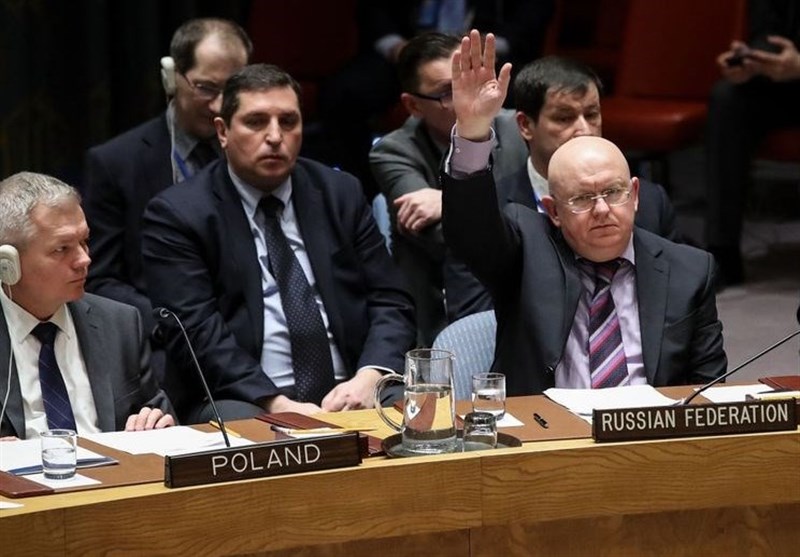 Russia, along with other guarantor states of de-escalation zones in Syria, namely Iran and Turkey, will continue talks in future to find ways to resolve the problems facing Idlib Province within the framework of the Astana peace process, Nebenzya said, addressing a UN Security Council meeting on Syria in New York on Tuesday.
Moscow, Tehran and Ankara will continue the talks so that the security of civilians in Idlib, which Western countries constantly claim to protect, would not be undermined, the Russian diplomat noted, according to the Russian-language RIA Novosti.
He further warned against false flag operations in Syria and said, "Militants and activists of the White Helmets continue fabricating the sham scenes that will feature the alleged use of chemical weapons inside the Idlib zone of de-escalation."
"The filming of these fakes has already taken place in some Syrian districts," Nebenzya said, adding, "Notably, the organizers forced the Syrians abducted previously in Idlib and Aleppo Governorates to take part in the filming."
"Also, we have the data suggesting that Jabhat al-Nusra handed barrels with chlorine to Jaysh al-Izza grouping in Lataminah and Kafr Zita," Nebenzya said. "Once again, we'd like to call attention to the fact. We've warned about it many a time."
"We can see full well some of our partners are using Syria as a bridgehead for triggering a far more serious and dangerous conflict with more far-reaching consequences in the entire region," the ambassador said, according to the TASS news agency.
"In the light of it, we'd like to call once again for real collective efforts on all the conflict situations in the region and particularly in struggle with terrorism and for giving up the attempts to solve Syria's problems behind its back."