World Condemns Deadly Terror Attack in Iran's Ahvaz
TEHRAN (Tasnim) – Foreign governments and international bodies strongly condemned Saturday's deadly terrorist attack on a military parade in Iran's southwestern city of Ahvaz that killed 25 people and wounded dozens.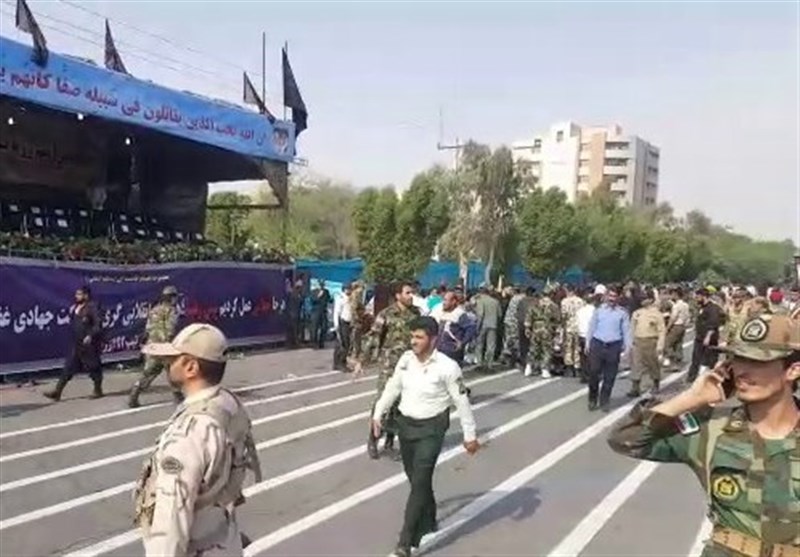 United Nations Secretary-General Antonio Guterres offered condolences to Iranians affected by the attack.
A statement issued Saturday by the UN said Guterres also "condemns the attack today in Iran's southwestern city of Ahvaz."
The statement added that Guterres "expresses his condolences to the families of the victims and to the Government and people of Iran. He wishes those injured a speedy recovery."
US officials also condemned the attack, saying that "the United States condemns all acts of terrorism and the loss of any innocent lives."
A State Department spokeswoman also voiced "support for the Iranian people" following the bloodshed in Ahvaz.
In a message to President Hassan Rouhani, Syrian President Bashar Assad also condemned the terror attack, saying, "We received, with utmost sorrow, the news of the terrorist attack against the military parade in Ahvaz city south of Iran. Hence, I extend to you and the friendly people of Iran, on the behalf of the people of the Syrian Arab Republic and on my own behalf, deepest condolences for the innocent victims, and condemn in the strongest terms this coward and criminal terrorist act".
In a separate message, Syria's Foreign Ministry deplored the terrorist attack, saying, those sponsoring "terrorism in the region won't be able to achieve their plots using these sordid crimes."
The Bolivian and Nicaraguan governments also sent condolences to Iran and condemned the terrorist attack.
"Bolivia reiterates its disdain for any act of intolerance or extremism and condemns violence and terrorism in all its forms," the Bolivian Ministry of Foreign Affairs said in a press statement, adding that Bolivia sends its "deepest sympathies and profound solidarity" to the victims and families of the attack.
Bolivian President Evo Morales shared his grief on Twitter.
"We express our condolences and solidarity with the families of the victims, the people and the government of Iran," wrote Morales.
Nicaraguan President Daniel Ortega and Vice President Rosario Murillo also sent their condolences.
"We would like to express our emphatic condemnation of this criminal act against our Iranian brothers," they said in a statement.
Kuwait's National Assembly Speaker Marzouq Al-Ghanim also sent a cable to his Iranian counterpart Ali Larijani to offer condolences on the deadly attack.
In his cable, Al-Ghanim condoled with families of the victims and denounced the terrorist act.
He also prayed for the dead and wished the wounded speedy recovery.