Severe Punishment Awaits Coward Elements behind Ahvaz Attack: Leader
September, 24, 2018 - 17:48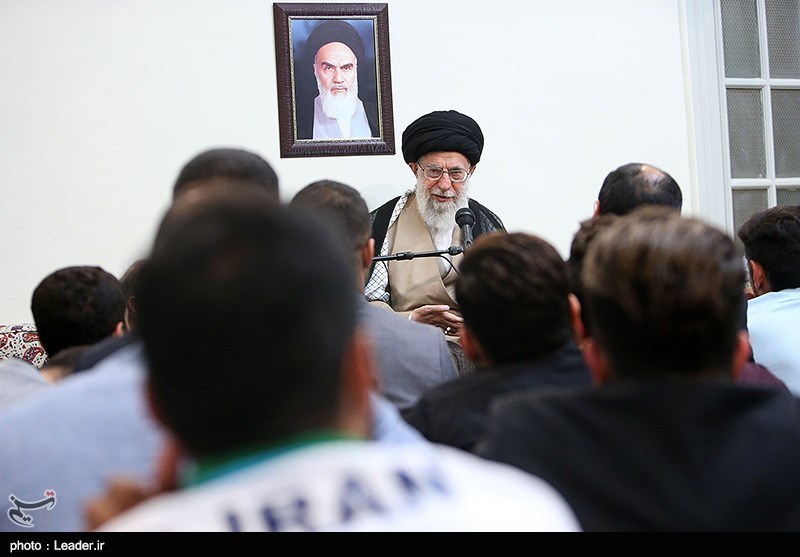 TEHRAN (Tasnim) – Leader of the Islamic Revolution Ayatollah Seyed Ali Khamenei condemned those behind a recent terrorist attack on "defenseless people" during a military ceremony in the southwestern city of Ahvaz as cowards and said the Islamic Republic will severely punish them.
"The bitter incident once again showed that the Iranian nation has numerous enemies in its honorable path of progress and excellence," Ayatollah Khamenei said in a Monday meeting in Tehran with the Iranian medalists at Jakarta Palembang 2018 Asian Games.
The Leader further described the terrorist attack in Ahvaz as "a coward act" and said, "The brave action belongs to the country's youths, who are sources of pride in scientific, defensive and sports fields."
"According to reports, this coward action has been taken by the same individuals who are saved by the Americans whenever they are in trouble in Syria and Iraq, and whose hands are in the pockets of Saudi Arabia and the United Arab Emirates," Ayatollah Khamenei said.
The Leader of the Islamic Revolution further emphasized that certainly, Iran will severely punish the culprits behind the action.
During a military parade in Ahvaz, which was staged concurrently with nationwide military parades on Saturday to mark the Sacred Defense Week, Takfiri militants wearing disguise opened fire at the people participating in the ceremony.
The political deputy governor of Khuzestan Province, Ali Hossein Hosseinzadeh, put the death toll from the attack at 25, saying 60 others have been injured.
According to media reports, the Al-Ahvaziya terrorist group has claimed responsibility for the attack.
A large number of people gathered in Ahvaz on Monday to participate in the funeral procession of the martyrs of the attack.