IOC Hails Growing Role of Women in Iran's Sports
TEHRAN (Tasnim) – President of the International Olympic Committee Thomas Bach praised Iran for giving women more opportunities for sports activities.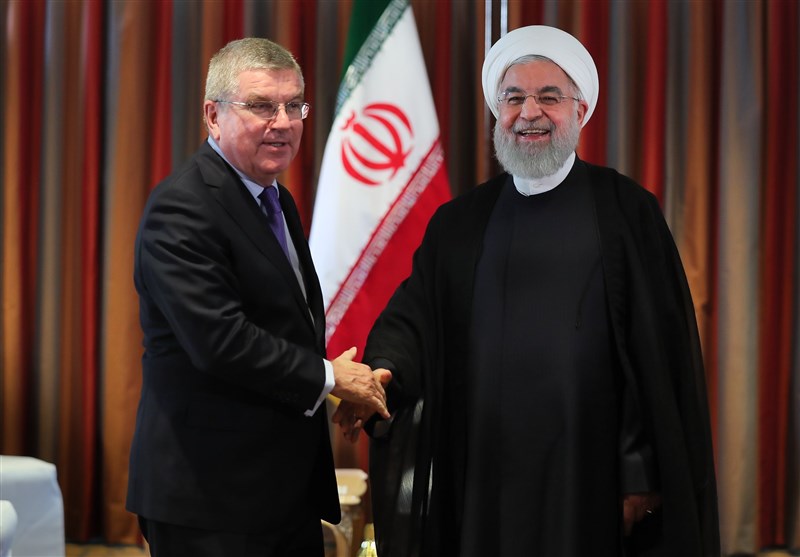 In a meeting with Iranian President Hassan Rouhani on the sidelines of the UN General Assembly in New York, Bach pointed to the great advances made in Iran's sports in recent years, and hailed the suitable opportunities for women's activities in various sports fields.
He also lauded as interesting Iran's idea to pick a female athlete as the flag-bearer of its squad in the Asian Games in Indonesia.
For his part, the Iranian president said Iran's sports has made great progress in the public and professional sectors in recent years.
Rouhani also stressed that his administration would always support athletes and athletic activities despite the independence of sports federations from the government.
He also said that women have been given a more active role in Iran over the past 5 years not only in sports, but also in administrative posts.
At the conclusion of the 2018 Asian Games earlier this month, the Iranian president praised the country's athletes for their "brilliant" performance in the games, saying, "I would also like to acknowledge Iranian female athletes' proud presence in these games, who observed Islamic and national values and won the most medals to break the record of the previous games, hoisting the Iranian flag to portray the confidence and power of our country's women in different fields of competition."
Rouhani is in New York to attend the 73rd UN General Assembly and hold meetings on teh sidelines of the assembly.