Heavy Rains, Floods Affect Northern Indian States
TEHRAN (Tasnim) - Incessant rains and floods-like situation have been reported from India's northern states of Punjab and Himachal Pradesh over the past three days.
September, 25, 2018 - 14:50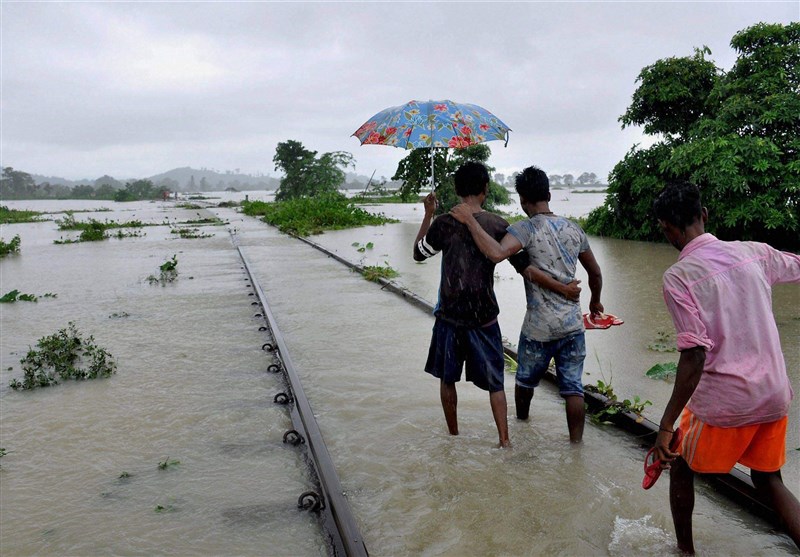 Over ten people have died so far in both the states, even as educational institutions have been shut and army put on alert for carrying out relief and rescue work in the affected areas.
The country's capital city Delhi also witnessed rains and cool breeze over the past few days, resulting in a sudden dip in temperature.
TV reports showed roads and streets converted into water streams in Punjab's Patiala district. Meteorological department has also forecast heavy rains in some other northern states over the next few days, Xinhua news agency reported.
According to the online edition of "India Today," as many as six researchers have gone missing in Himachal Pradesh.
"Hundreds of people are stranded at various places following the suspension of bus services in Himachal Pradesh," it reported.
Many rivers in the hilly state are said to be overflowing, damaging over 100 roads, including some highways. National Highway No. 21 was submerged resulting in traffic snarls, media reports stated.
Gates of various dams had to be opened even as water-level rose above danger mark. Due to heavy rains and winds, trees got uprooted, falling and damaging vehicles.
Dozens of bridges were reportedly washed away in Chamba, Kullu and Kangra areas of Himachal Pradesh. The situation was further aggravated after water was released from the hydel power project dams including Larji, Pandoh, Sanan in Mandi and Chamera in Chamba district.
Traffic on National Highway No. 21 still remains suspended at Aut, where a road is completely submerged in water. The closing of the highway has cut off Manali hill station from district headquarters Kullu.
Besides the hilly terrains, heavy rains have also affected the plains.