Iranian, Bolivian Presidents Urge Closer Political, Economic Ties
TEHRAN (Tasnim) – Iranian President Hassan Rouhani and his Bolivian counterpart, Evo Morales, discussed a host of topics, including ways to deepen bilateral relations between the two countries in all economic and political areas.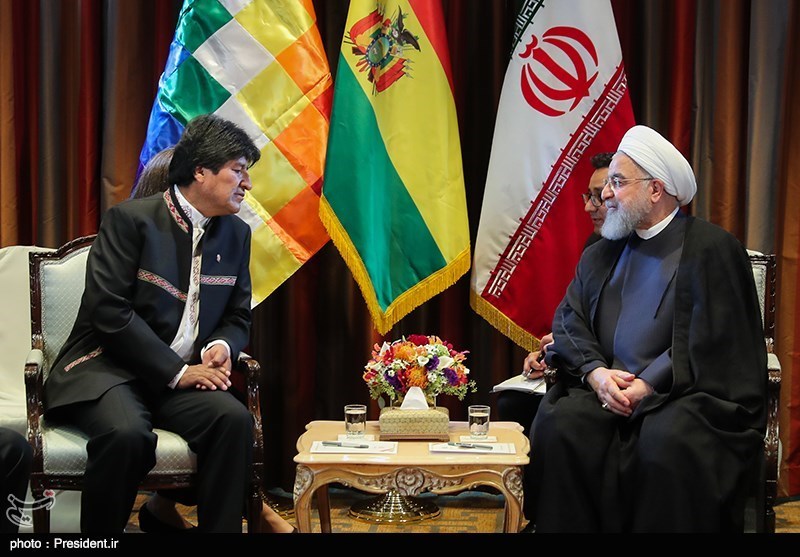 Speaking at the meeting in New York on Monday, Rouhani hailed the commonalities between the Iranian and Bolivian nations and said Tehran and La Paz should make further efforts to develop mutual cooperation.
"The Islamic Republic of Iran is determined to develop its relations with Latin American countries, particularly Bolivia, in various fields of economic, medical, scientific, technological and technological affairs," he said.
Rouhani further described the resistance of the Iranian and Bolivian nations in the face of US interference and unilateralism as significant and said, "Preserving national independence and dignity is very important to the Iranian nation."
Morales, for his part, offered his condolences over a recent terrorist attack in Iran's southwestern city of Ahvaz, which killed 25 people and injured dozens more.
He also underlined the importance of closer ties between Iran and Bolivia and said the two countries are strategic partners in their struggle to serve their national interests.
Heading a high-ranking delegation, Rouhani arrived in New York on Sunday evening to participate in the annual meeting of the United Nations General Assembly.
Speaking to reporters at John F. Kennedy International Airport upon his arrival, Rouhani said he will have sideline meetings and interviews during the trip.
Citing the "different atmosphere" of this year's General Assembly meeting, the president said, "Americans have unfortunately reneged on many of their commitments across the world, including their commitments under the JCPOA (the 2015 Iran nuclear deal)."
The president also said that the UNGA provides an opportunity for a better explication of the US breach of international regulations.
On May 8, US President Donald Trump pulled his country out of the Joint Comprehensive Plan of Action (JCPOA), which was achieved in Vienna in 2015 after years of negotiations among Iran and the Group 5+1 (Russia, China, the US, Britain, France and Germany).