Afghan Parliamentary Polls Underway despite Threats
TEHRAN (Tasnim) – Some Afghans lined up for hours to cast their vote Saturday in Parliamentary elections that are being protected by tens of thousands of security forces, who are on alert nationwide following a campaign marred by relentless violence.
October, 20, 2018 - 12:12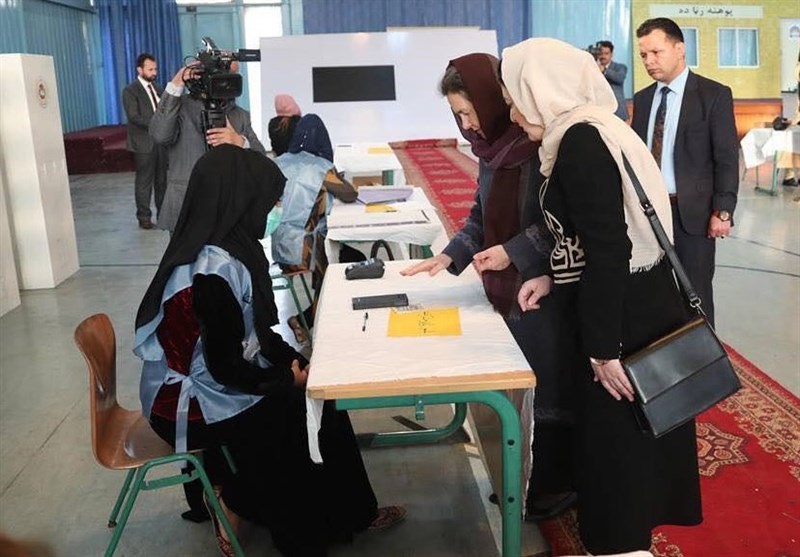 As voting began, polling workers struggled with a new biometric system and in several polling stations workers took an extraordinary amount of time to locate names on voter lists. In some polling stations in the capital Kabul voting started as much as an hour late causing small disturbances by frustrated voters, some of whom had come to vote nearly two hours before polls opened.
The new biometric machines meant to curtail fraud were late additions to Afghanistan's elections and had not been tested in the field nor had workers had more than a few weeks to learn the system. Even the Independent Election Commission chairman Abdul Batih Sayad warned ahead of polling that the system might experience glitches and asked for voters' patience, AP reported.
Afghan President Ashraf Ghani marked his ballot at the start of voting. In a televised speech afterward, he congratulated Afghans on another election and praised the security forces, particularly the air force, for getting ballots to Afghanistan's remotest corners. He also reminded those elected to Parliament that they are there to serve the people and ensure the rule of law.
The Independent Election Commission registered 8.8. Million people. Wasima Badghisy, a commission member, called voters "very, very brave" and said a turnout of 5 million will be a success.
At a polling station in crowded west Kabul, Khoda Baksh said he arrived nearly two hours early to cast his vote, dismissing Taliban threats of violence.
"We don't care about their threats. The Taliban are threatening us all the time," said 55-year-old Baksh, who said he wanted to see a new generation of politicians take power in Afghanistan's 249-seat Parliament. He bemoaned the current Parliament dominated by warlords and a corrupt elite. "They have done zero for us."
Chief Executive Abdullah Abdullah waited to mark his ballot as polling workers struggled to move voters through the process.
"Holding the election is a huge step in the lives of the Afghan people," Abdullah said after casting his vote. "The beginning of the process was a bit slow, but that was just because of a new system and the Independent Election Commission employees needed more instruction."
The first violence to be reported since the start of polling occurred in a northern Kabul neighborhood. Qarbagh district Gov. Azim Dilagha said a small explosion frightened voters but no injuries were reported.
In the run-up to the elections, two candidates were killed while polling in Kandahar was delayed for a week after a rogue guard gunned down the powerful provincial police chief, Gen. Abdul Raziq. In the capital of Kabul, security was tight, with police and military personnel stopping vehicles at dozens of checkpoints throughout the congested city.
Commission deputy spokesman Aziz Ibrahimi said results of Saturday's voting will not be released before mid-November and final results will not be out until later in December.
More than 50,000 Afghan National Security Forces personnel have been deployed to protect the 21,000 polling stations. Insecurity forced the election commission to close nearly a third of its polling centers and cancel elections in 11 of nearly 400 districts. As well as Kandahar, elections will not be held in Ghazni province, where polls have been postponed until next year.
The Taliban have vowed to disrupt Saturday's vote, warning teachers and students not to allow schools to be used for as precincts and warning Afghans to stay away from the polls.
Ghani said Afghans alone are carrying out elections as he praised the millions of voters who registered, defying threats from insurgents.
"I thank you from the bottom of my heart," he said. "The more than 8 million people who registered have shown that they themselves will decide the future of Afghanistan."