Army Repels Militant Attack in Western Syria
TEHRAN (Tasnim) – Syrian forces and their allies thwarted an attack by terrorists in the country's western-central province of Hama.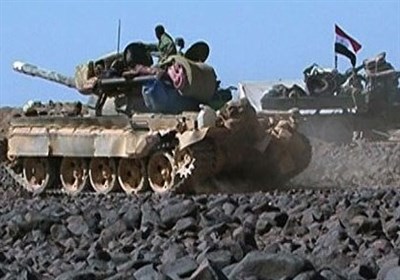 Syrian forces clashed with terrorists who tried to infiltrate military positions in the vicinity of al-Saymaniya town in Hama, the official SANA news agency reported late on Friday.
"A terrorist group tried to sneak towards one of our advanced military points near al-Saymaniya town," a military source said in a statement.
"The point's personnel confronted the terrorists and inflicted heavy losses on them, killing and injuring the attacking group's members."
"The direct clash with the terrorists left some of our army members wounded and a number of them martyred," added the source.
Takfiri terrorists have lost much of the territory they once held in Syria amid sweeping gains by government forces on the ground.
In April, Syrian forces managed to retake the Eastern Ghouta and Eastern Qalamoun regions near the capital Damascus.
They later moved to liberate other militant-held areas in the province of Hama.