Official: US Unable to Harm Iran-Iraq Ties
TEHRAN (Tasnim) – The relations between Iran and Iraq are so deep-rooted that foreign plots to undermine such friendly bonds would get nowhere, the secretary of Iran's Supreme National Security Council said.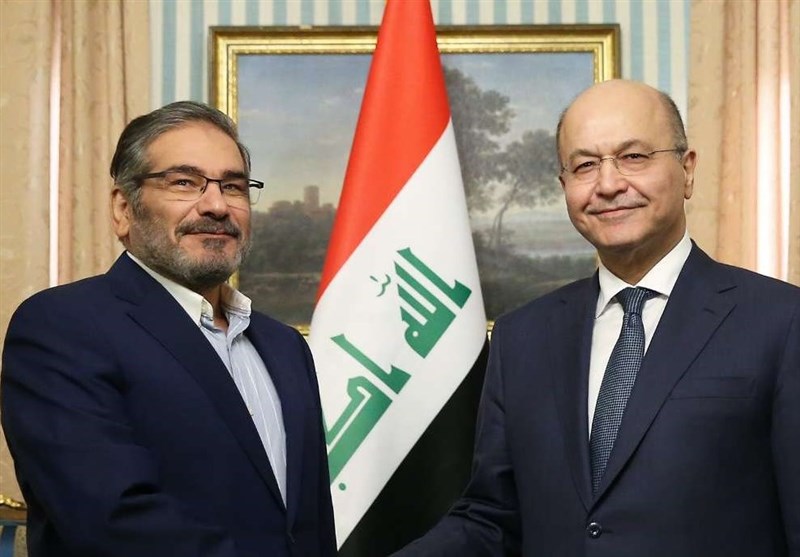 In a meeting with Iraq's president in Tehran on Saturday, Ali Shamkhani hailed the "deep and strategic" relations between Iran and Iraq in the political, economic, social and cultural arenas.
"Multiple plots hatched by the US and some reactionary countries of the region to upset the friendly ties between the two nations (of Iran and Iraq) will go nowhere," Shamkhani said.
Praising Iraq for its victory against terrorism, the Iranian official said the countries that are uneasy about the defeat of terrorist groups seek to undermine Iraq's internal solidarity.
Pointing to the failure of the US policy of "instrumental use of terrorism" and attempts at sapping the strength of regional countries, Shamkhani said Washington has resorted to sanctions and pressures against independent states.
He also called for the immediate implementation of the agreements that Tehran and Baghdad have signed in the past, saying the growing ties between the two neighbors should not be hindered by any factor.
For his part, Iraqi President Barham Salih expressed gratitude to Iran for its support for the Iraqi nation in the battle against terrorism, saying the two neighbors enjoy strong bonds in various fields.
He also voiced Iraq's opposition to the "illegal sanctions" aimed at weakening other countries, stressing that Baghdad will vigorously counter any foreign attempt at harming the unity between Tehran and Baghdad.
"We won't allow any country or group to use Iraq for harming the Islamic Republic of Iran's interests," Salih stated.
The Iraqi president arrived in Tehran on Saturday with a ranking delegation for a series of political and economic talks.
Salih, 58, is a British-educated engineer who has held office in both the Iraqi federal and Kurdish regional governments.