Sahand Destroyer Joins Iran Navy Fleet
December, 01, 2018 - 10:22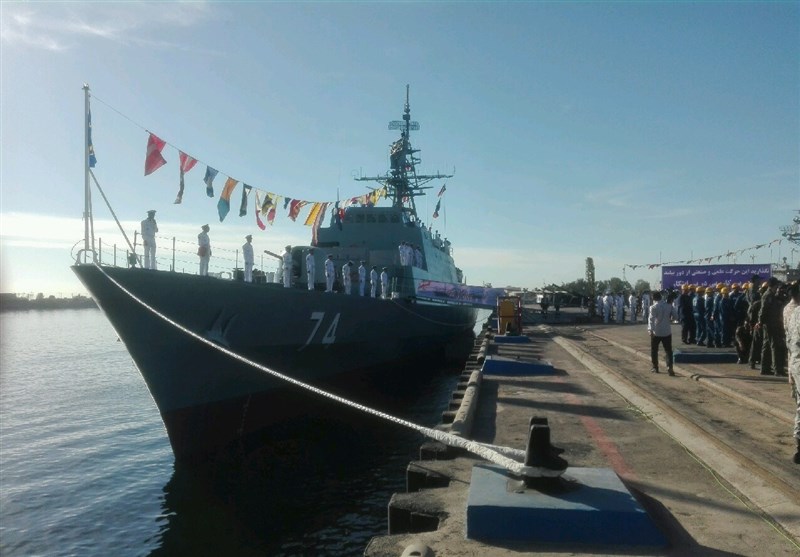 TEHRAN (Tasnim) – The Iranian Navy officially received a new homegrown destroyer, dubbed Sahand.
In a ceremony at Iran's southern port city of Bandar Abbas on Saturday, the Sahand destroyer joined the Navy's fleet.
The launch ceremony was attended by Iran's Army Commander Major General Abdolrahim Mousavi, Navy Commander Rear Admiral Hossein Khanzadi, and other high-ranking military commanders.
Iran has so far launched different classes of domestically-built destroyers as part of a broad project known as Mowj (wave). The Navy has already received Jamaran and Damavand destroyers, developed by the local experts.
Last week, the Navy commander said Sahand has been equipped with a locally-manufactured point-defense weapon system dubbed 'Kamand'.
The Kamand close-in weapon system can destroy any target approaching the destroyer from a distance of two kilometers by firing between 4,000 and 7,000 rounds per minute.
Sahand has also been furnished with anti-ship cruise missiles and a helicopter deck and enjoys electronic warfare systems.
In a meeting with Navy commanders on Wednesday, Leader of the Islamic Revolution Ayatollah Seyed Ali Khamenei praised as "great and fabulous" the advances that Iranian military forces, the Navy in particular, have made since the victory of the Islamic Revolution in 1979, saying the Navy's success in bringing into service homegrown vessels such as the Sahand destroyer or Fateh and Qadir submarines heralds more progress day after day.