Iran's Military Strategy Offensive at Operational, Tactical Levels: IRGC Commander
December, 22, 2018 - 14:39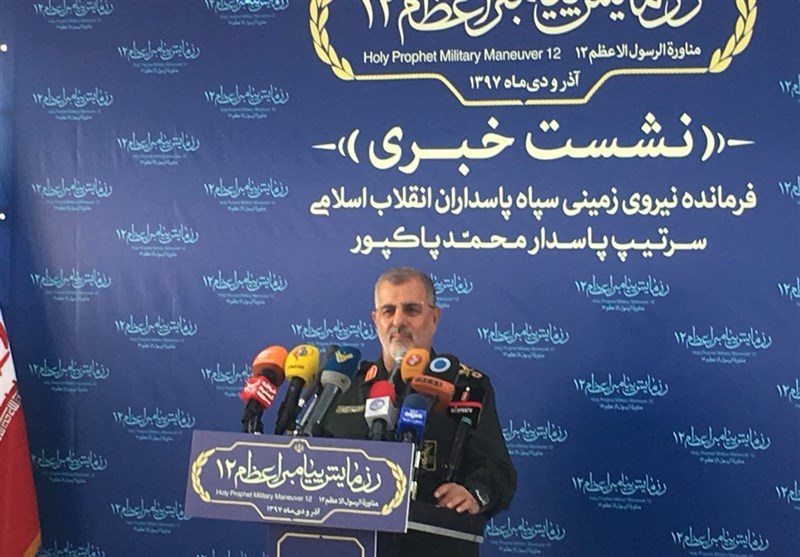 TEHRAN (Tasnim) – Commander of the Islamic Revolution Guards Corps (IRGC) Ground Force Brigadier General Mohammad Pakpour said although Iran's military strategy is based on deterrence, it is offensive at operational and tactical levels in the country.
Speaking to reporters on the sidelines of a massive war game in southern Iran on Saturday, Brigadier General Mohammad Pakpour said, "We have reached all objectives that we had already set for the war game."
"As we stated earlier, our core principles and doctrine are defensive but at the operational and tactical levels, it is offensive," he noted.
"The best defense is offense and when the enemy has an ill-intention against our country we should attack it because our deterrent factor would be the same offense," the commander went on to say.
The IRGC Ground Force launched the main phase of a large-scale military exercise codenamed "Payambar-e Azam-12 (The Great Prophet)" near Qeshm, the largest island in the Persian Gulf on Saturday.
Iran's Armed Forces hold routine military exercises throughout the year.
Iranian officials have repeatedly underscored that the country will not hesitate to strengthen its military capabilities, including its missile power, which are entirely meant for defense, and that Iran's defense capabilities will be never subject to negotiations.
Back in February 2018, Leader of the Islamic Revolution Ayatollah Seyed Ali Khamenei called for efforts to maintain and boost Iran's defense capabilities, hitting back at the enemies for disputing the country's missile program.
"Without a moment of hesitation, the country must move to acquire whatever is necessary for defense, even if the whole world is opposed to it," Ayatollah Khamenei said on February 18.