Gilets Jaunes Protesters Stage 9th Round of Demonstrations in France (+Video)
January, 13, 2019 - 14:29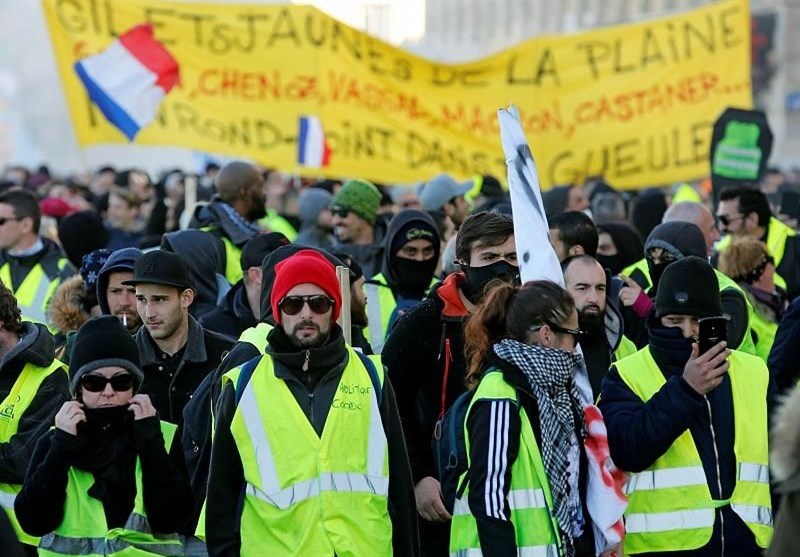 TEHRAN (Tasnim) - Thousands of protesters turned out across France for new round of "yellow vests" demonstrations in 9th weekend of the social movement, with dozens of arrests and clashes in Paris and other cities.
Paris police fired water cannons and tear gas to repel "gilets jaunes" or "yellow vests" protestors around the Arc de Triomphe as scuffles broke out between police and protesters.
Police placed a car ban on the nearby Champs-Élysées avenue to avoid further escalation of violence.
The street protests began peacefully in the French capital but degenerated later in the afternoon as protesters hurled missiles at riot police barricading bridges over the Seine river, Euronews reported.
The Interior Ministry estimated that there were a maximum of about 84,000 demonstrators nationwide on Saturday - more than the 50,000 counted last week but well below the record 282,000 estimated on 17 November when the protests began, according to Reuters.
The ministry said more than 100 people have been arrested in Paris and other French cities, including 82 who were in police custody.
French authorities deployed 80,000 security forces nationwide in preparation for a ninth straight weekend of anti-government demonstrations. 5,000 security forces were deployed in Paris alone.
Saturday marked "Act 9" or the ninth day of national action for the "gilets jaunes". The citizen movement was first created as a protest against a planned fuel tax rise but mutated into a crisis about inequality and spending power.
Paris was not the only city where protestors were met with aggressive pushback. The movement's leadership is seeking new arenas and new momentum for its weekly demonstrations.
Saturday saw thousands of additional protesters marching in the cities of Marseille, Bourges, Nantes, Bordeaux, Toulon, Caen and Strasbourg, representing every area of the country.
The nationwide protest has focused its anger against high living costs and the perceived indifference of President Emmanuel Macron, whose government this week hardened its stance against the protestors.