Iran's Beiranvand Reveals Inspiration behind Penalty Heroics
TEHRAN (Tasnim) – Iran iconic goalkeeper Alireza Beiranvand says he has saved Oman's penalty while he was only thinking about the people of his country.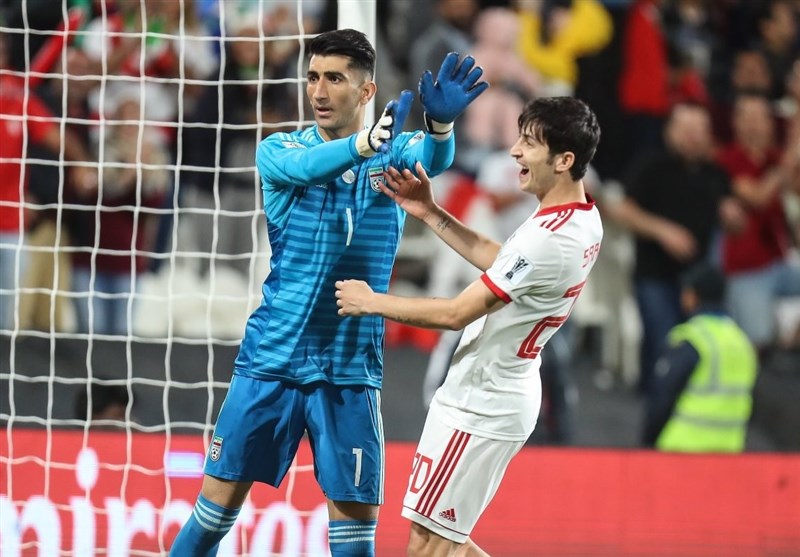 The 26-year-old goalie saved Al Mahaijri's penalty in the third minutes of the match.
Alireza Jahanbakhsh and Ashkan Dejagah were on target for Team Melli in the first half to send Iran to the 2019 AFC Asian Cup quarter-finals.
Having already saved a penalty from Cristiano Ronaldo at last year's FIFA World Cup, Beiranvand's heroics in the UAE only added to his growing reputation.
"I was only thinking about the people of Iran. I really wanted to make them happy, because when you get to this stage, everyone watches the game. It's just the one game, if you lose it, you're eliminated," Beiranvand said.
"I knew people would be praying, and all I could do was focus. Thankfully, I was able to help my team, and make my people happy. Sardar Azmoun told me [which way to go]. Although I had already made up my mind prior to that. I had decided and then Sardar told me, so I thought it had to mean something," the Persepolis goalkeeper stated.
The 2-0 victory saw Iran maintain its perfect record at the tournament and register a fourth successive clean sheet in the process, two remarkable statistics which, according to Beiranvand, are inextricably linked.
"The penalty happened very early on, but thankfully it wasn't converted so we continued without conceding. We're a team that is guaranteed to win if we don't concede," he said.
"It's one of the characteristics of Team Melli, don't concede and we will go now and win the game, it has been like this so far," Beiranvand concluded.