Pakistanis Stage Protests over Saudi Crown Prince's Visit (+Video)
ISLAMABAD (Tasnim) – Hundreds of Pakistani people staged protest rallies over a planned visit to the country by Saudi Crown Prince Mohammed bin Salman, also known as MBS, calling on Islamabad to cancel the trip.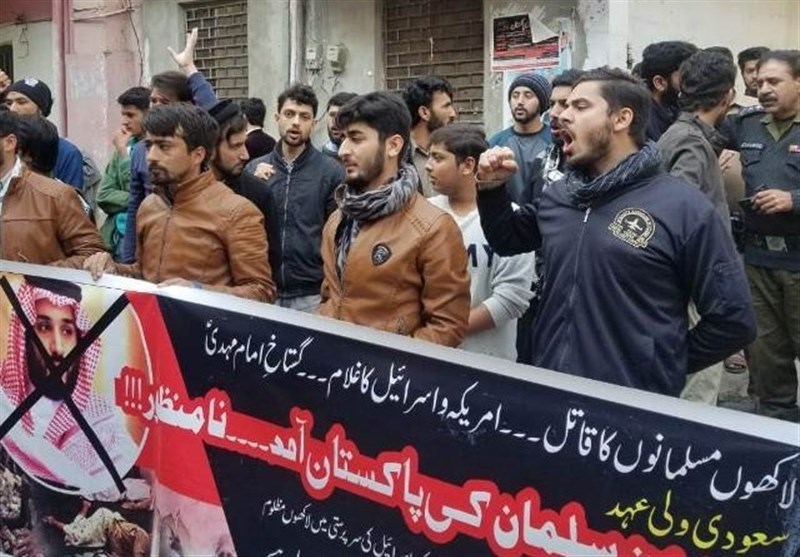 According to Tasnim dispatches, the demonstrators said the first objective behind bin Salman's visit is to undermine the territorial integrity and independence of Pakistan.
The link between the Al Saud rulers and Israel has not only hurt Muslims but also negatively affected all regional countries, a demonstrator said.
In addition to street protests, some influential religious groups in Pakistan have also called for the unity of all political and religious groups to prevent bin Salman's visit.
Originally scheduled for Saturday, the Saudi crown prince's arrival in Islamabad has been delayed by a day.
MBS will arrive in Islamabad on Sunday for a two-day visit that will see him hold talks with Pakistani Prime Minister Imran Khan, Army Chief Qamar Javed Bajwa and President Arif Alvi, Pakistan's foreign office said in a statement this week.
The country has also faced a degree of diplomatic isolation after the killing of journalist Jamal Khashoggi in its consulate in Istanbul last year.