President Inaugurates New Phase of Large Refinery South of Iran
TEHRAN (Tasnim) – Iranian President Hassan Rouhani on Monday inaugurated the third phase of Persian Gulf Star Refinery, known as the world's largest gas condensate refinery, during a ceremony in the country's southern port city of Bandar Abbas.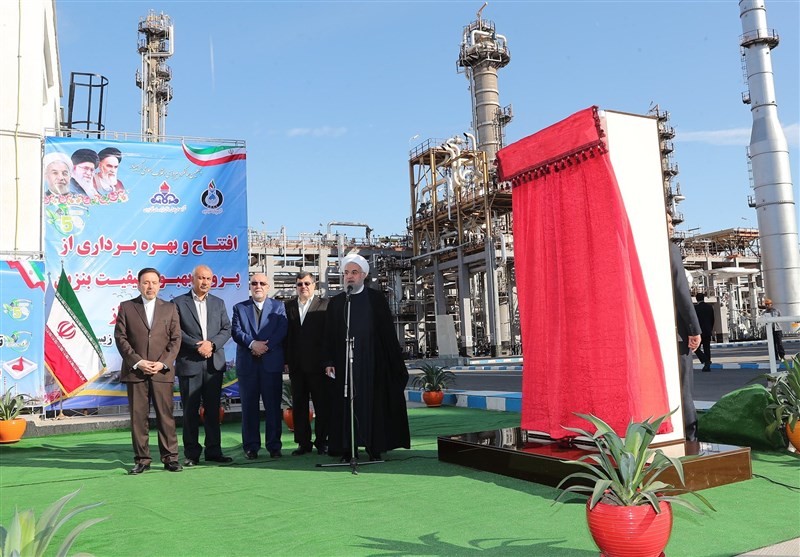 Rouhani officially launched the refinery's Phase 3 during his second day of visit to the coastal province of Hormozgan.
The large refinery produces gasoline, gas oil, liquefied petroleum gas (LPG), hydrogen, sulfur, and jet fuel.
The inauguration of the new phase would allow for the production of 12 million liters of gasoline a day, which could rise to 15 million liters later.
The project has provided employment for 3,500 people, including 600 permanent jobs.
As the third phase comes into operation, the refinery's daily production capacity reaches 45 million liters of Euro-5 gasoline, 12.5 million liters of gas oil, 3 million liters of liquefied gas, and 2 million liters of jet fuel.
Regulations for protection of environment have been taken into account in the implementation of the project by improving the quality of gasoline and gas oil.
Developed by Khatam al-Anbia Construction Base, a conglomerate affiliated with the Islamic Revolution Guards Corps (IRGC), the refinery's first phase was launched in April 2017.
The project is estimated to be completed at a cost of approximately $3.4 billion.