Ayatollah Khamenei Lauds Unity of Iranian Armed Forces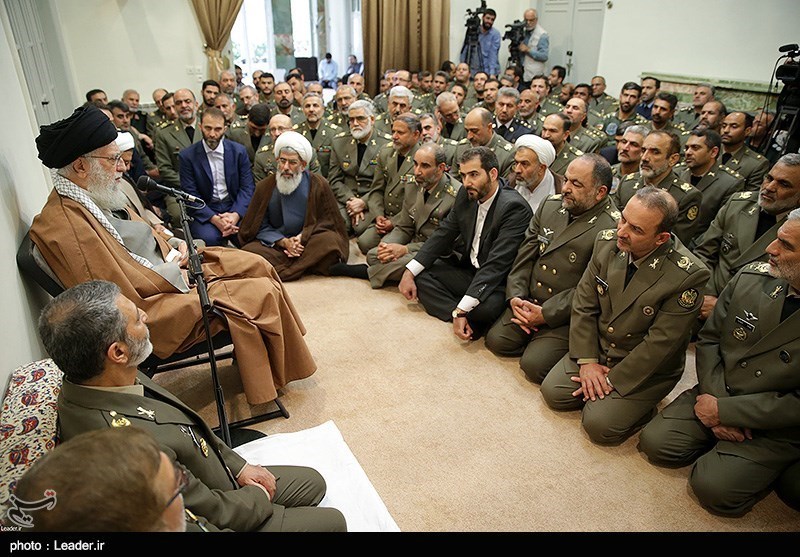 TEHRAN (Tasnim) – Leader of the Islamic Revolution Ayatollah Seyed Ali Khamenei praised the growing unity among the Iranian military forces and the Army's backing for the Islamic Revolution Guards Corps after the US move to blacklist the IRGC.
In a meeting with a group of top Army commanders in Tehran on Wednesday, Ayatollah Khamenei said the growing unity among the Iranian armed forces has enraged the enemy.
The Leader also lauded the Army and the IRGC for the "beautiful measure" of extending the "hand of fraternity" to each other after Washington's recent hideous move to blacklist the IRGC.
"Any measure that makes the enemy angry is good and correct," the Leader underlined.
On April 15, a notice published in the US Federal Register officially put the IRGC in the list of foreign terrorist organizations, one week after Trump blacklisted the IRGC, marking the first time the US has formally labelled another country's military a terrorist group.
Elsewhere in the meeting, Ayatollah Khamenei praised the Iranian Armed Forces as the "elements of national power" and "safe barriers" protecting the nation, warning that the enemies seek to disrupt public calm in Iran by portraying the armed forces as anxious.
The Leader also highlighted the Army and the IRGC's major role in providing relief aid for people in natural disasters, saying the military forces rushed to help people after the recent floods across Iran.
Ayatollah Khamenei also noted that the Iranian armed forces have been foiling the hostile plots with their regional presence, highlighting the significant role that the Iranian Army and the IRGC played in the fight against Daesh (ISIL) terrorist group.
Iran is going to celebrate the National Army Day on Thursday.