Iran, Oman Hold Joint Naval Drills (+Video)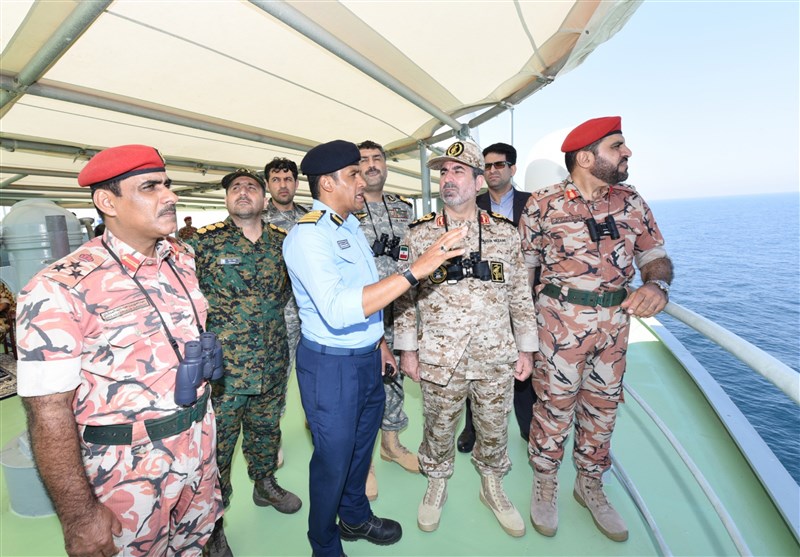 TEHRAN (Tasnim) – Iran and Oman held joint military drills in the waters of Oman in a bid to build stronger relations.
The joint naval rescue and relief exercises took place off the coast of Muscat on Wednesday, according to the General Staff of the Armed Forces of the Islamic Republic of Iran on Wednesday.
Units from the Royal Navy and the Royal Air Force of Oman as well as the Border Guard Brigade along with units from the Navy of Islamic Republic of Iran Army and the Navy of the Islamic Revolution Guards Corps (IRGC) participated in the drills.
The drills took place on the sidelines of the annual gathering of the Iranian-Omani joint military commission that started on Sunday and was held at the venue of the General Staff of the Armed Forces of the Sultanate of Oman.
A high-ranking Iranian military delegation, headed by Brigadier General Ghadir Nezami, has traveled to the Omani capital.
Speaking at a meeting in Muscat consisting of 120 representatives from Iran's business and economic sectors, Iranian Ambassador to Oman Mohammad Reza Nouri Shahroudi said that the expansion of maritime transportation between Iran and Oman would boost trade and mutual economic interactions, citing the recent increase of direct flights between the two countries from 20 to 48 per week, according to Omani media.
The two counties also plan to create a new shipping route by the end of April, without naming the ports which would be linked through the new line. This would be the fifth direct shipping line between the two regional neighbors.