IRGC Chief: Trouble of US Warships Addressed Once and For All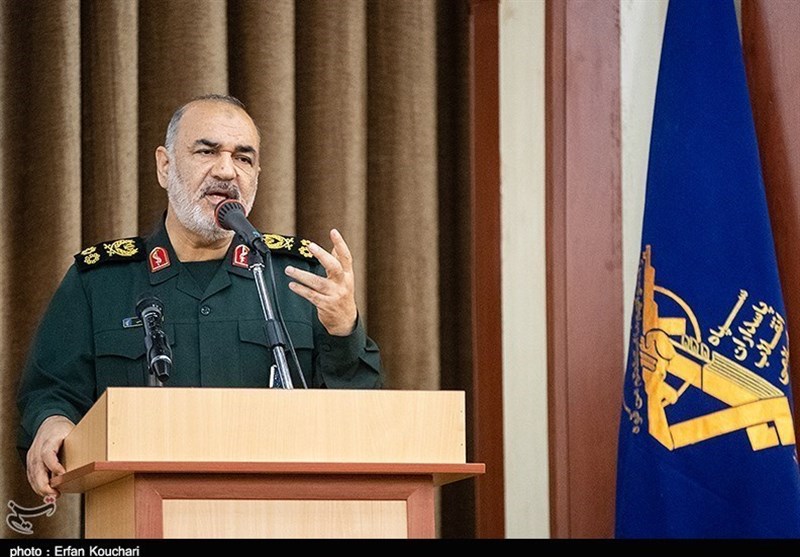 TEHRAN (Tasnim) – The Islamic Republic's initiative to manufacture guided ballistic missiles put an end to the concerns caused by the presence of US aircraft carriers near Iranian waters once and for all, Commander of the Islamic Revolution Guards Corps (IRGC) Major General Hossein Salami said.
Addressing a cultural event in Tehran on Tuesday, Major General Salami said the concerns about the threat of American warships near Iran were addressed 12 years ago.
"We sought to deal with the issue of (American) warships and aircraft carriers," the commander said, adding that late Brigadier General Hassan Tehrani-Moqaddam -known as the father of Iran's missile program- stepped in by developing a navigation system to guide the ballistic missiles that could hit mobile targets at sea.
Describing the late commander's initiative as a miracle of technology which is at disposal of a few countries, Salami said the homegrown system could successfully annihilate an offshore target about one third the size of an aircraft carrier 12 years ago.
The IRGC chief also highlighted Iran's advances in the military and civilian industries, saying the production of satellites is now as easy as making bicycles for Iran.
Iranian military technicians have in recent years made great headways in manufacturing a broad range of indigenous equipment, making the armed forces self-sufficient in the arms sphere.
Tehran has always assured other nations that its military might poses no threat to the regional countries and is entirely based on deterrence.