Zarif: Quds Not for Sale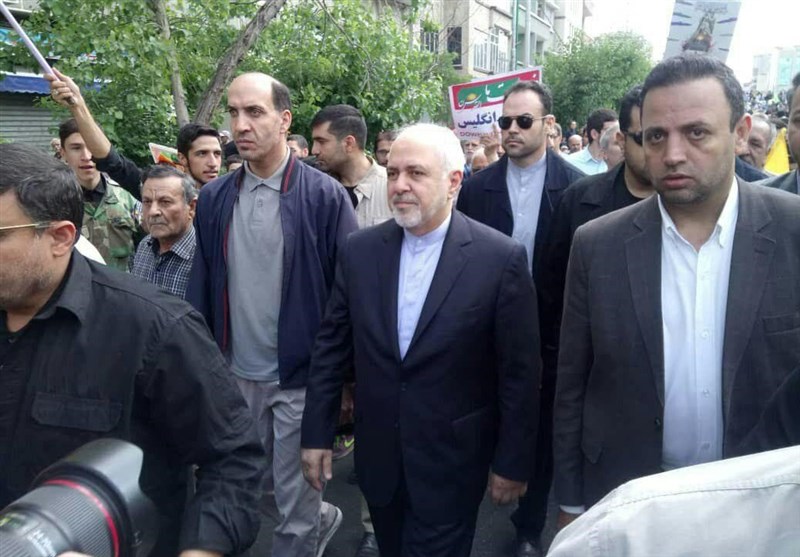 TEHRAN (Tasnim) – Iranian Foreign Minister Mohammad Javad Zarif described the city of al-Quds as an indispensable part of Palestine that belongs to Muslims and would not be up for sale.
"Al-Quds belongs to Muslims and people of Palestine, and nobody has a right to cede the Qibla of Muslims to Americans and the Zionist regime or to take any other action damaging the aspiration of the Palestinian nation," Zarif told reporters while attending a rally in Tehran in commemoration of the International Quds Day on Friday.
"The message of (rallies) today is that al-Quds is not up for sale," the top Iranian diplomat underscored, stressing that neither the US nor the Israeli regime can have a claim on the Palestinian city.
Zarif further deplored a statement that some Arab leaders have issued against Iran at a meeting of the Organization of Islamic Cooperation (OIC) in Saudi Arabia, saying, "A handful of Arab rulers are under a delusion, for protecting themselves and pursuing their objectives, that if they stand beside (Israeli Prime Minister Benjamin) Netanyahu, they will be able to achieve their dreams."
"Netanyahu has failed to support even Israel with his Iron Dome (air defense system), so how could he support those (Arab) states?" Zarif asked.
The foreign minister finally recommended the OIC participants in Mecca to serve the interest of the organization and support the people of Palestine instead of making nonsensical comments about Iran, like the last night's stances that exhilarated Israel.
Iranian people took part in countrywide demonstrations on Friday to mark the International Quds Day, reaffirm support for Palestine, and condemn the Israeli crimes against Palestinians.
Each year, the International Quds Day is celebrated on the last Friday of the Islamic holy month of Ramadan.
The event's raison d'être is renewing support for the Palestinians and denunciation of Israel.
In comments on Wednesday, Leader of the Islamic Revolution Ayatollah Seyed Ali Khamenei said the so-called peace plan devised by Washington and its cronies for the Middle East would fail and "will be never realized".
The Leader also described Quds Day rallies as particularly important this year because of acts of treasons by certain states in the region and said, "The Quds Day rally which represents supporting Palestine by public turnout has always been important. It is more important this year because of the treasonous acts by US cohorts in the region who try to make the 'Deal of the Century' accepted. Of course, it will not be accepted and it will never be realized; the United States and its cohorts will certainly face failure on this matter."