Palestinian Refugees in Lebanon March against Bahrain Conference (+Video)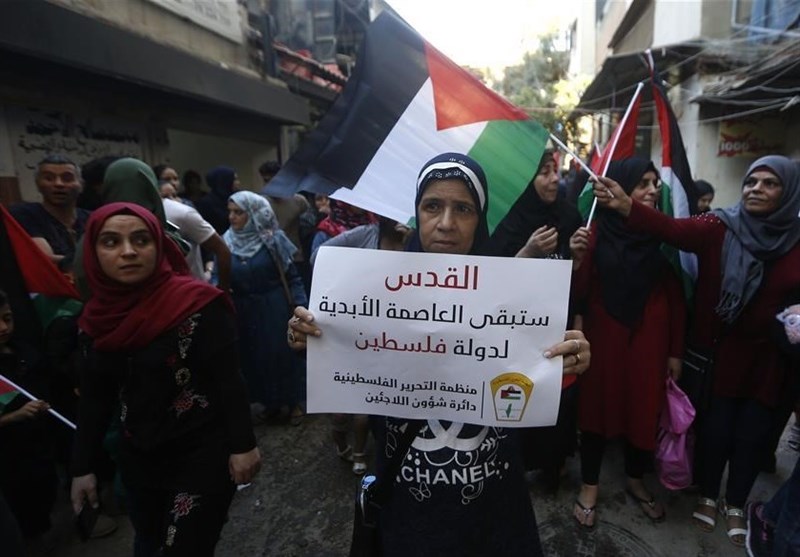 TEHRAN (Tasnim) – Palestinians took part in a rally in the Burj al-Barajneh refugee camp near Beirut, Lebanon, on Monday, to protest against the upcoming US-led conference which begins in Bahrain today.
Members of Lebanese and Palestinian political parties said that they completely refuse the "Deal of the Century" and any measures that are related to the so-called new Middle East peace plan, the National News Agency reported.
Footage shows protesters drumming and playing music as they march through the streets, with elderly people and children waving Palestine flags.
Many expressed their resolve to return to Palestine, as one protester said, addressing US President Donald Trump, "We tell you, Trump, do not think about taking any inch of the land of Palestine. As long as there is a Palestinian child born in Palestine and outside, we will take it back and we will not abandon him. We do not want resettlement or anything, we want our country and its soil, even if we sleep in the soil."
The US administration and Bahrain announced in May they were hosting the "Peace to Prosperity" workshop in Manama, to discuss the economic part of Washington's Middle East peace plan.
The Palestinian leadership is boycotting the meeting, saying that it fails to address the issue of occupation.
The "Peace to Prosperity" meeting will take place in Bahrain on June 25-26.