No Specter of War, IRGC General Stresses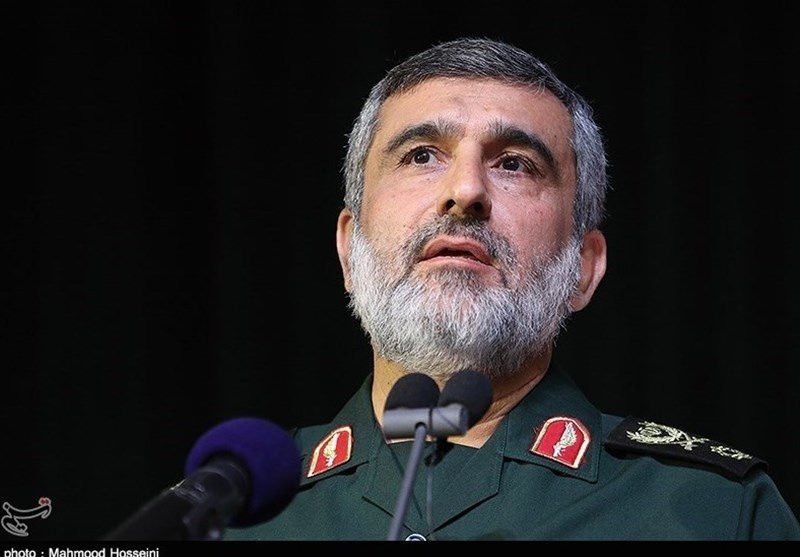 TEHRAN (Tasnim) – Commander of the Islamic Revolution Guards Corps (IRGC) Aerospace Force Brigadier General Amir Ali Hajizadeh dismissed the notion that there is a specter of war on Iran, saying the enemies do not basically dare take action against the country.
Speaking to reporters upon his arrival in the southwestern city of Ilam on Wednesday, General Hajizadeh described the threat of war on Iran as a fake concern fabricated by the West.
"There is no specter of war on Iran, (becuase) the enemy lacks such a capability, and this fact has become clear to everyone," he added.
Praising his forces for doing their duty in shooting down an intruding US spy drone with a homegrown air defense system, General Hajizadeh said, "Neither the US nor any other country dares attack Iran's soil today."
It was "impossible" for the US to carry out the threat of retaliation after the downing of the spy drone, he emphasized, adding, "The Americans must mind their manners, because the era of looking down on the Iranian nation is over."
The commander also rejected the US claim that the doomed drone had not entered the Iranian airspace, saying, "Other countries have refuted the US claim of not violating the Iranian border."
The IRGC Aerospace Force shot down a US unmanned aerial vehicle (UAV) that intruded into the airspace of Iran on June 20.
The IRGC said the 'Global Hawk' spy drone had taken off from a US military base in south of the Persian Gulf, switched off all of its communication systems, and flew towards the port city of Chabahar via the Strait of Hormuz in maximum stealth.
When flying back to the western part of the region, the unmanned plane violated the Iranian airspace near the Strait of Hormuz and began to spy on Iran and collect information, the statement added.
IRGC Chief Major General Hossein Salami said later that the shooting down of the US drone had a straightforward message that any foreign intrusion into Iran's sovereign territories would draw a crushing response.
"The downing of the US drone had an explicit, decisive and clear message that defenders of the Islamic Iran's borders will show decisive and knockout reactions to aggression against this territory by any alien," he added.
"Borders are our redline, and any enemy violating these borders will not go back," Salami underlined.