Zarif Highlights Irony of IAEA Meeting on JCPOA
TEHRAN (Tasnim) – Iranian Foreign Minister Mohammad Javad Zarif highlighted the United States' hypocrisy when it comes to the Joint Comprehensive Plan of Action, saying Washington that has violated the nuclear deal and unilaterally withdrawn from it has no standing to raise JCPOA issues.
"Irony of IAEA Board meeting on US request: a. US abhors JCPOA, axed & violates it, and punishes all who observe it; b. US has no standing to raise JCPOA issues; c. Iran fully complied with JCPOA per 15 IAEA reports; d. Iran's actions are lawful under para 36 of accord," Zarif said on his official Twitter account on Wednesday.
In a chart posted on the account, he described how Iran's recent actions regarding the JCPOA commitments were lawful under Paragraph 35 of the deal.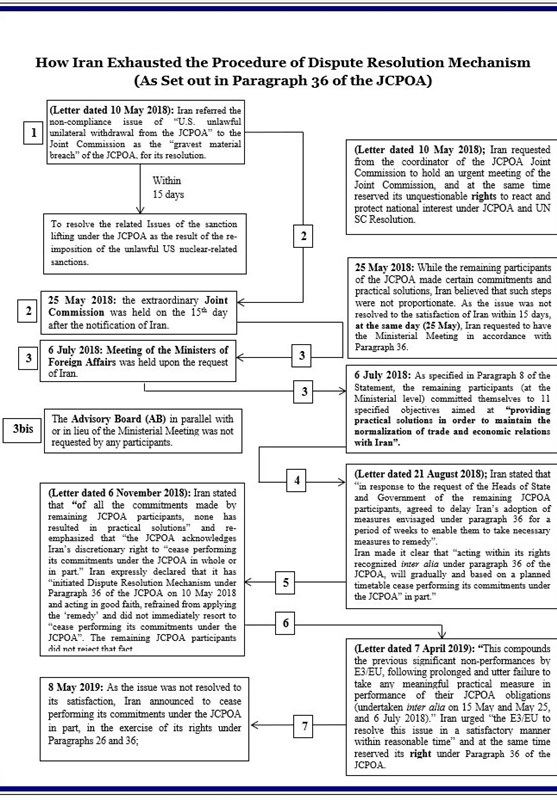 It came after the International Atomic Energy Agency (IAEA) held a special meeting earlier on Wednesday at Washington's request to win the Board of Governors' support for its anti-Iran claims about the JCPOA.
The emergency meeting of the 35-member Board of Governors of the IAEA was held in Vienna to discuss Iran's nuclear program, which wrapped up with no conclusion.
The meeting came a few days after Iran increased the level of its uranium enrichment to 4.5%, which is beyond the limit set by the JCPOA. The move was part of the second phase of the country's May 8 decision to reduce its commitments under the multilateral 2015 nuclear deal in reaction to the US violations and Europe's inaction.
The emergency meeting was held at the request of US Ambassador to International Organizations Jackie Wolcott. Iran later criticized the US' request as a "sad irony" as Washington is the party that has violated the deal first by unilaterally pulling out of it and imposing sanctions on the Islamic Republic.
In May 2018, US President Donald Trump pulled his country out of the JCPOA.
Iran and the remaining parties launched talks to save the JCPOA after the US withdrawal, but the three EU parties to the deal (France, Britain, and Germany) have failed to ensure Iran's economic interests.
The EU's inaction forced Tehran to stop honoring certain commitments to the nuclear deal, including a rise in the stockpile of enriched uranium.
Iran maintains that the new measures are not designed to harm the JCPOA, but to save the accord by creating a balance in the commitments.