Sheikh Zakzaky Returns to Nigeria without Being Treated
TEHRAN (Tasnim) – Top Shiite cleric and leader of the Islamic Movement in Nigeria (IMN) Sheikh Ibrahim al-Zakzaky, whose health condition had been deteriorating in prison and had traveled to India for medical reasons, returned home on Friday without being treated.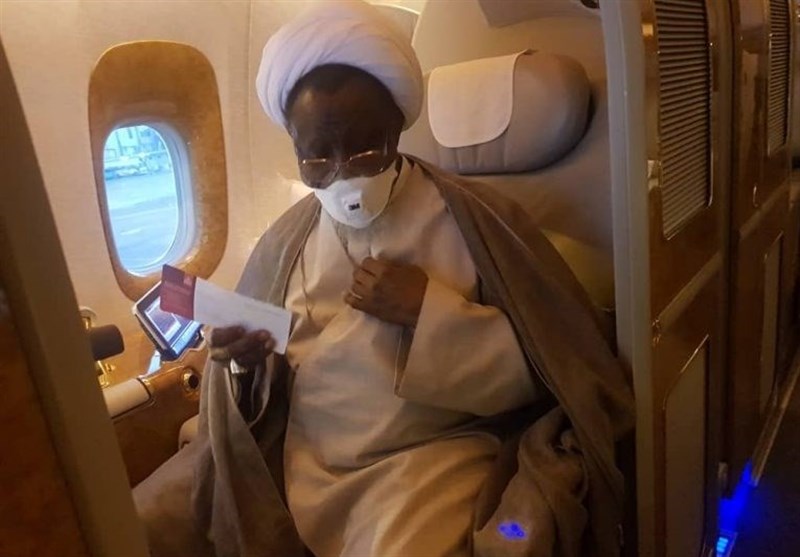 Sheikh Zakzaky and his wife decided to return to Nigeria because of dissatisfaction with the process of their treatment and security restrictions as well as the lack of trustworthy physicians in India.
"The Indian government gave us only two hours to decide whether to accept the hospital conditions or to go back to Nigeria," Sheikh Zakzaky said in a video posted on Twitter on Thursday.
He said they had opted to return to Nigeria.
"There are a lot of countries. We will go back to Nigeria and if any of them accepts our conditions we will go there," he added in the video.
Earlier this month, a high court in Abuja granted the couple medical leave on the condition that they must be accompanied by a government security escort.
Sheikh Zakzaky has been held in detention since December 2015 and was charged just in April 2018 with murder, culpable homicide, unlawful assembly, disruption of public peace and other accusations. He has pleaded not guilty.
In 2016, Nigeria's federal high court ordered his unconditional release from jail following a trial, but the government has so far refused to set him free.
The top cleric has lost his left eyesight in a raid by the Nigerian army on his residence in the northern town of Zaria in December 2015.
During the raid, Zakzaky's wife sustained serious wounds too and more than 300 of his followers and three of his sons were killed. Zakzaky, his wife, and a large number of the cleric's followers have since been in custody.