Iraq Eager to Benefit from Iranian Police's Experience
TEHRAN (Tasnim) – Iraq's Minister of Interior Yassin al-Yasiri expressed his country's willingness to benefit from the Iranian Police's experience in ensuring security.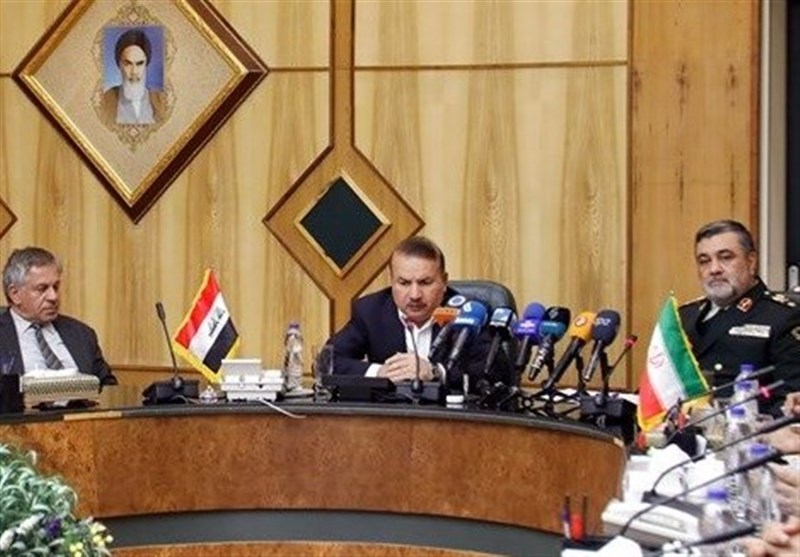 In a meeting with Iranian Police Commander Brigadier General Hossein Ashtari in Tehran, Yasiri lauded the Iranian Law Enforcement for using "advanced and modern technical equipment" to ensure the security of Iranian citizens.
"We are willing to take advantage of the (Iranian) Police's knowledge and invaluable experience," the visiting Iraqi minister said, calling for closer cooperation between the police forces of the two countries.
Yasiri also pointed to a recently-signed agreement that would facilitate visits to Iraq, lift visa requirement for Iranian Arbaeen pilgrims, and enhance security of the travelers, saying that the number of Iranian pilgrims visiting Iraq in this year's Arbaeen season is expected to rise.
On Saturday, the Iraqi interior minister and his Iranian counterpart Abdolreza Rahmani Fazli signed an agreement to implement plans to facilitate the Arbaeen pilgrimage to Iraq, including one on reopening the Khosravi border crossing.
Iran and Iraq have also agreed to raise the level of services and facilities for the pilgrims and enhance border security during the Arbaeen season, which will culminate in a large gathering in Karbala on October 19.
Arbaeen, one of the largest religious gatherings in the world, comes 40 days after Ashura, the martyrdom anniversary of the third Shiite Imam.
Each year, a huge crowd of Shiites flock to the Iraqi city of Karbala, where the holy shrine of Imam Hussein (AS) is located, to perform mourning rites.