Iran to Use Any Legitimate Tool to Protect Its Citizens' Interests: Spokesman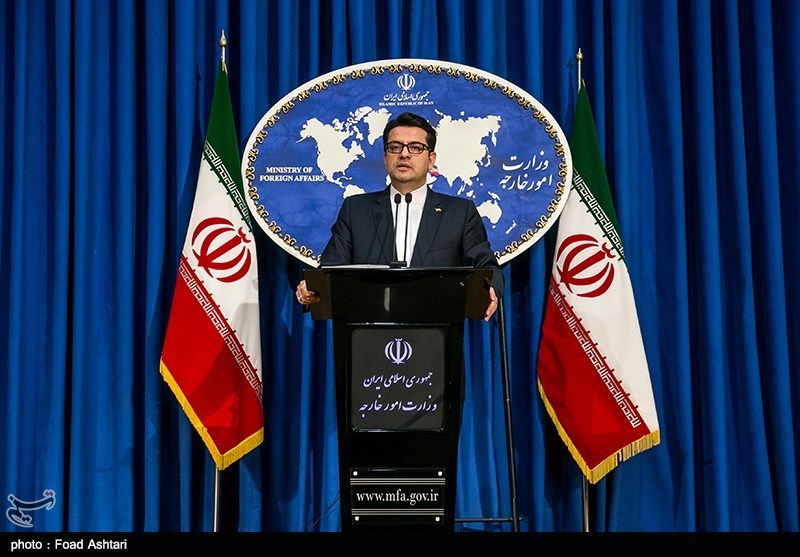 TEHRAN (Tasnim) – Iranian Foreign Ministry Spokesman Seyed Abbas Mousavi defended the country's move to impose sanctions on the so-called Foundation for Defense of Democracies (FDD) and its director, saying Iran will use any legitimate instrument to protects its nationals' interests.
"Creating negative atmosphere (against Iran) by the US State Department and the foundation of Mr. Dubowitz is nothing new; making lies and misleading is their specialty," Mousavi said on Sunday.
"However, the Islamic Republic of Iran's administration will use all legitimate instruments in accordance with the international law to safeguard the fundamental interests of Iranian citizens," he noted.
"…In addition to fulfilling its legal obligation, the Islamic Republic of Iran's administration is sending a message that it is committed to protecting its citizens against those who are hostile to Iranians, and that those who work with them should know that their hostility to the people of Iran will not be forgotten and will not be without cost," the spokesman went on to say.
The comments came after US State Department spokeswoman Morgan Ortagus, in a tweet on Saturday, warned that Washington is taking Tehran's threats seriously and will hold it accountable if it "compromises the safety of any American".
Iran's Foreign Ministry earlier announced sanctions on the Foundation for Defense of Democracies (FDD) and Dubowitz, its CEO, for "heightening the impact of the US sanctions on the Iranian nation."
The remarks come against the backdrop of increased tensions between Iran and the US with Washington imposing new sanctions against the Islamic Republic.
The US has ratcheted up pressure on Iran since last year after withdrawing from the 2015 nuclear deal, known as the Joint Comprehensive Plan of Action (JCPOA).
Since then, the administration of US President Donald Trump is trying to reduce Iran's oil exports to "zero," and has sent an aircraft carrier strike group, a bomber squad, an amphibious assault ship, and a Patriot missile battery to the Middle East to try to stack up pressure on Tehran.
Iranian officials, however, have dismissed such moves as psychological warfare, saying the country has its own ways of circumventing the American bans and selling crude oil.
In comments on April 24, Leader of the Islamic Revolution Ayatollah Seyed Ali Khamenei said the US' attempts to block the export of Iranian oil will get nowhere as Tehran will be exporting any amount of crude it needs and wants.