US Hindering Settlement of Iran-Saudi Tensions: Larijani
October, 15, 2019 - 17:23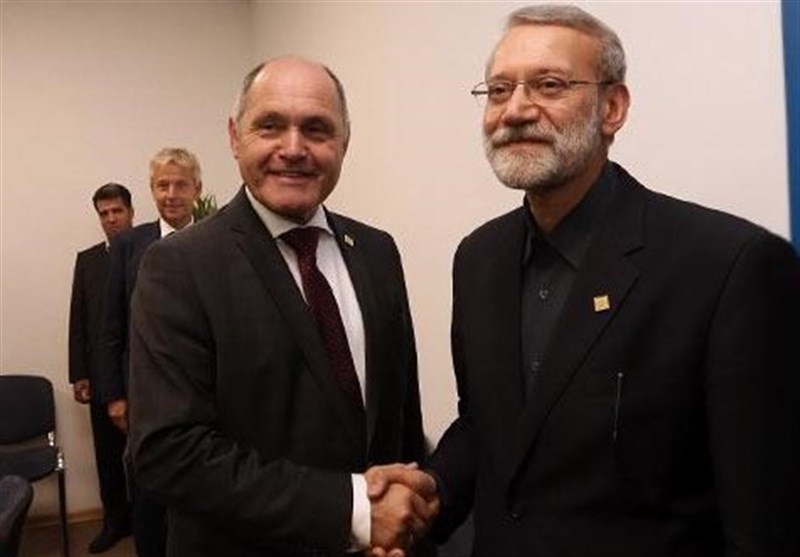 TEHRAN (Tasnim) – Iran's Parliament Speaker Ali Larijani lashed out at the US for obstructing a thaw in the relations between Tehran and Riyadh.
The main cause of chaos in the Middle East is the US, Larijani said in a meeting with his Austrian counterpart on the sidelines of the 141st Assembly of the Inter-Parliamentary Union (IPU) in Serbia on Tuesday.
Underlining that Iran is not opposed to the resolution of conflicts with Saudi Arabia, the speaker said Washington has been obstructing such a thaw because it benefits from the existence of tensions.
"The US is the main reason for the dispute between Iran and Saudi Arabia," he deplored.
Citing the American authorities' admission that the US had created the ISIL (Daesh) terrorist group, Larijani said Washington wanted to use Daesh as a tool, but their plot backfired.
He further called for efforts to enhance the political, trade and cultural ties between Iran and Austria.
For his part, President of the Federal Council of Austria Ingo Appé hailed Iran's stabilizing role in the Middle East, saying Tehran's approach shows the importance of dialogue.
He also expressed hope that Washington would adopt a more calculated policy after withdrawing from the 2015 nuclear deal.
Appé also noted that Austria would welcome any opportunity for building trust between Iran and Saudi Arabia.
In a recent interview with Turkey's TRT World, Iran's Foreign Minister Mohammad Javad Zarif said the Islamic Republic welcomes efforts by intermediaries to mediate between Tehran and Riyadh.
"We've always been open to discussing anything with Saudi Arabia. Saudi Arabia is our neighbor. We're going to be here together permanently," Zarif underlined.
Tensions have elevated between Iran and Saudi Arabia since retaliatory attacks by Houthis on Saudi oil facilities on September 14. Saudi Arabia and the US pinned the blame for the Yemeni raids on Tehran. Iran denies any involvement in the attacks.