Iran Police Chief: Southern Border Crossing Sees 56 Percent Rise in Number of Arbaeen Travelers
TEHRAN (Tasnim) – The number of Iranian travelers using 'Chazzabeh' border crossing for pilgrimage during this year's Arbaeen season has risen by 56 percent compared to a year before, commander of the Iranian Police announced.
October, 18, 2019 - 14:12
Speaking to reporters during a visit to the Chazzabe border crossing in Iran's southwestern province of Khuzestan, Brigadier General Hossein Ashtari said the Arbaeen pilgrims are travelling between Iran and Iraq from four border crossings smoothly.
According to the Police commander, more than 570,000 Arbaeen pilgrims have chosen Chazzabe border crossing to leave or return to Iran, saying it shows a 56 percent increase in comparison to the previous year.
The number of Iranian pilgrims returning home from Iraq after attending the Arbaeen procession has exceeded the number of travelers leaving for the Arab country in recent days.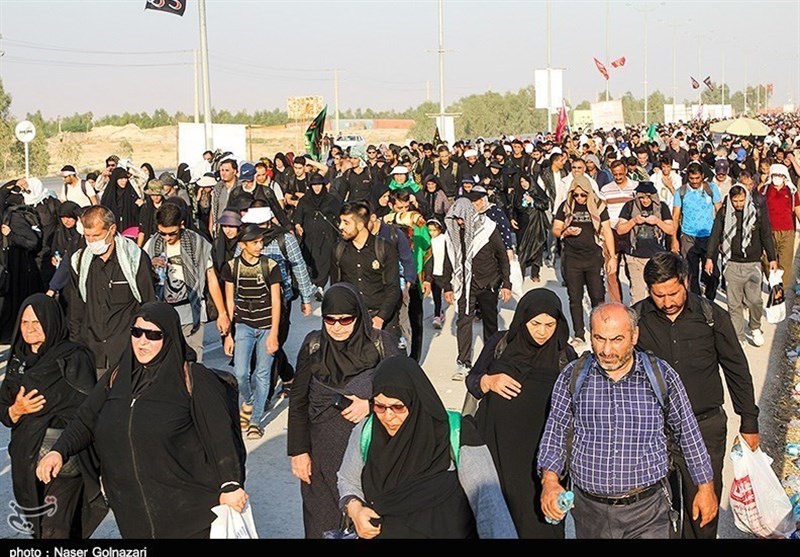 Some 20 million pilgrims from around the world have gathered in Iraq's holy city of Karbala to commemorate Arbaeen, the 40th day after the martyrdom anniversary of Imam Hussein (AS), the third Shiite Imam.
Many pilgrims arrive in Karbala after walking a long distance from Najaf. Pilgrims enter the holy cities of Najaf and Karbala up to two weeks before Arbaeen, which falls on October 19.
In comments on Thursday, Iran's Interior Minister Abdolreza Rahmani Fazli said a total of 3.5 million Iranians had entered Iraq to take part in the religious ceremony, 1.2 million more than the number reported last year and topping previous participation records.