IRGC Chief Warns Enemies against Crossing Red Lines
December, 04, 2019 - 16:18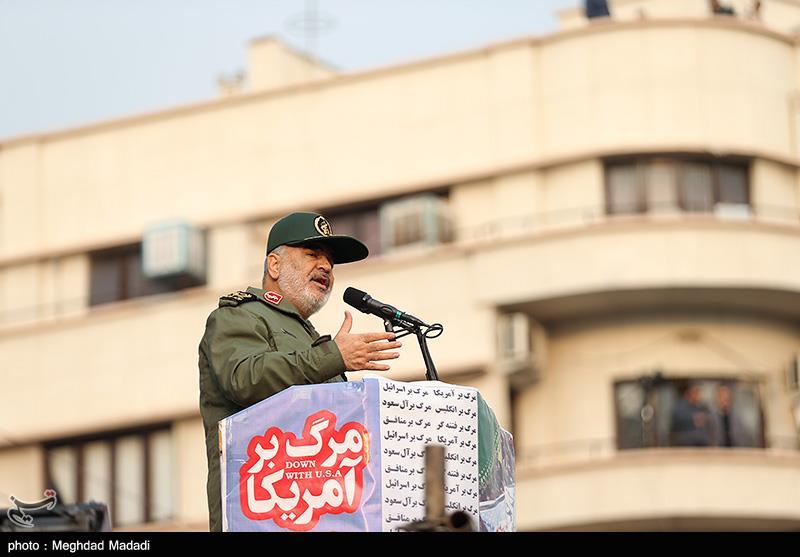 TEHRAN (Tasnim) – Commander of the Islamic Revolution Guards Corps (IRGC) Major General Hossein Salami cautioned the enemies of Iran not to cross the red lines.
"I warn the enemies not to cross the red lines," Major General Salam said at a cultural event in Tehran on Wednesday.
Describing the recent unrest in Iran in the wake of a rise in fuel prices as a seditious plot, the commander said the enemy was trying to make up for its defeats and link the policy of maximum pressure against Iran with the unrest inside the country.
The adversaries were waiting in ambush to take advantage of the riots to threaten Iran, but Iranians turned the threats into opportunities, the commander said, adding that the vigilant Iranian nation separated its path from the American plots.
The world nations are eliminating the US from the stage of political geography, Salami stressed, adding that Washington only seeks to inflict poverty and underdevelopment on nations across the world.
He went on to say that the recent incidents in Iran helped people realize the US' fake support, stressing that the enemies of Iran suffer from political dementia and are miscalculated.
Following a hike in the price of gasoline on November 15, a number of Iranian cities saw sporadic protests that turned violent in some cases.
A number of banks and government buildings have been set ablaze. Officials have confirmed that a number of people have been killed in the protests.
In an address on November 17, Ayatollah Khamenei warned that the sporadic protests and acts of vandalism in Iran would create insecurity.
Describing insecurity as the worst calamity for a society, the Leader said "the whole centers of evil in the world" have mobilized efforts in recent days to encourage unrest in Iran.
Ayatollah Khamenei also called on the Iranian authorities to be careful that the rise in the price of fuel would not increase the price of other commodities.
The Leader also called on the people to separate themselves from a group of thugs who are encouraged by the foreign-based anti-Iranian front to foment insecurity.