Ghalam-Kari: Another Popular Art in Isfahan
December, 17, 2019 - 18:25
TEHRAN (Tasnim) - Ghalamkari, a kind of traditional print that is applied to textile, is one of many handicrafts of Isfahan. The handicrafts of Isfahan are so popular and prosperous that this city was chosen as the World Crafts City by the World Council of Handicrafts in 2015.
Ghalamkari prints, also known as "Chit Sazi", is one the artistic products with a very ancient history. Some believe this craft to be originated from India.
In the past, to apply the prints on a traditional textiles such as cotton, silk, linen, they were painted using brush and herbal paints. Because of the skillful and elaborate work of the masters, this crafts was named Kalamkar or "Ghalamkar" which refers to the word "Ghalam" with the meaning of brush in the Persian language.
Gradually, wooden print blocks replaced the painting process because they were less time- consuming and easier to use. The oldest blocks found in Iran were carved out of stone and belong to the 11th and 12th centuries. But the wooden blocks were brought to Iran by Mongols the in late 14th century, and ever since then designing and making wooden blocks have become the first and maybe a most important step for making Kalamkari prints.
To make the block, first the intended design is drawn on a sketch paper with graphite, then based on the color it is separated to single-color layers. Then each design is applied and later carved to blocks of Pear or Hawthorn wood. Most commonly four blocks are created for each design and the textiles usually have four colors.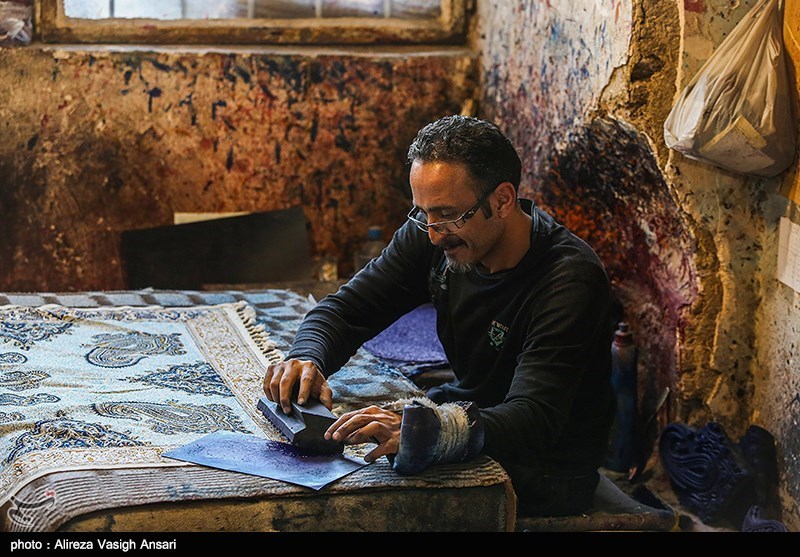 Out of the colors, first the black layer is printed, then red, blue and yellow is applied in last. Sometimes green and brown are used as complementary colors.
The patterns of animals, foliage, arabesque, monuments of Isfahan, the story of Leyla and Majnoon and more miniature paintings are used. Safavid dynasty is known to be the flourishing period of Kalamkari.
During that time Kalamkari textiles were prospering so much that, only in Isfahan, four great bazaars and also multiple caravanserais were busy for making this craft and they sent their products to cities all over the country.
Source: Visitiran.ir