Iran Proposes Joint Investment with Qatar
December, 19, 2019 - 14:16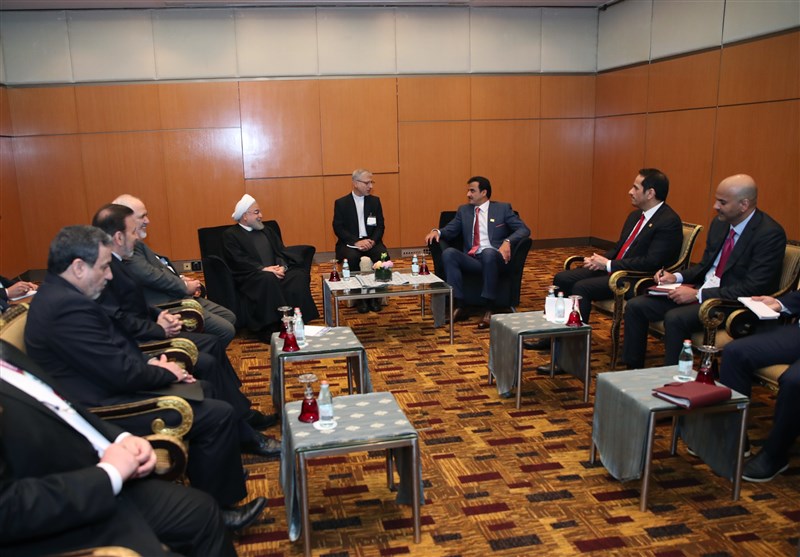 TEHRAN (Tasnim) – President of Iran Hassan Rouhani called for joint investment plans with Qatar.
The Iranian president held a meeting with Emir of Qatar Sheikh Tamim bin Hamad Al Thani on the sidelined of the ongoing KL Summit 2019 in Malaysia on Thursday.
In the gathering, the two heads of Muslim countries stressed the need for the expansion of bilateral relations between Tehran and Doha in all fields.
"We have stood and continue to stand with Qatar, and condemn any pressure and hardship inflicted on that country," the Iranian president told the Qatari emir.
President Rouhani also emphasized that Iran and Qatar should make use of their proximity to promote the economic and trade ties, saying the two nations can fulfill each other's demands in the current economic circumstances.
"We can cooperate in the sphere of joint investment," Rouhani added.
For his part, the Qatari leader hailed the "special ties" between Doha and Tehran, calling for closer interaction and more frequent contacts in the current conditions.
Lauding Iran for its supports for Qatar in the face of sanctions, Al Thani noted that the two nations can ride out the difficult situation successfully.
The Iranian president is in Malaysia to attend the Kuala Lumpur Summit 2019, attended by around 250 leaders, politicians, and thinkers from 52 countries.
After attending the KL Summit, Rouhani will pay a visit to Japan at the invitation of Japanese Prime Minister Abe Shinzo.