Yemeni Protesters Gather to Condemn Continued Saudi Aggression on Hudaydah (+Video)
December, 20, 2019 - 15:04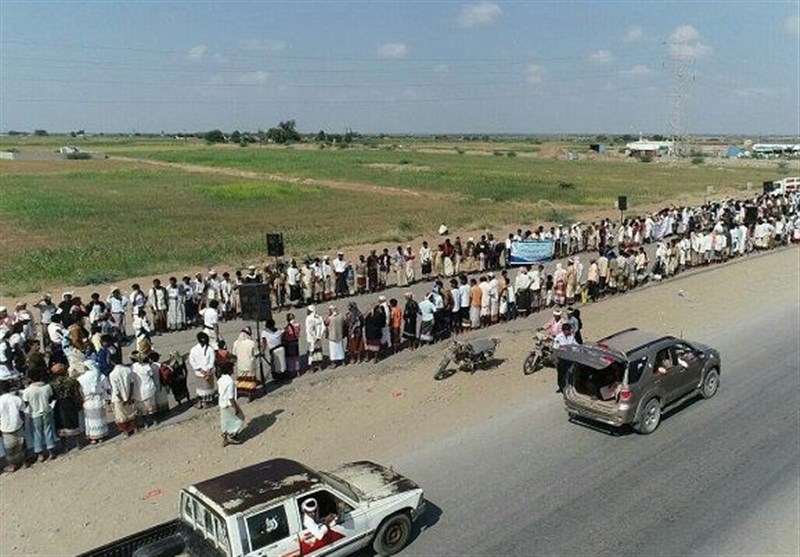 TEHRAN (Tasnim) – Residents of Yemen's port city of Hudaydah in the districts of Baet Al-Fakih, Al-Mansoreah and Ad-durayhimi organized a rally to denounce continued violations of Stockholm agreement by the Saudi-led forces.
The protesters referred to the latest violations of the agreement by Saudi-led forces after they targeted a number of mostly residential neighborhoods in dozens of airstrikes and also continued the siege of Ad-duraymi district.
The protesters in a statement condemned the continued violations of Stockholm Agreement by the forces supported by the Saudi Arabia and denounced the United Nations regarding its silence over the aggressions by the US-backed Saudi Arabia alliance and the crimes they committed against the people of Yemen, especially women and children, Almasirah reported.
They also objected to the denial of entry to ships carrying food and medicine to the ports of Hudaydah by the Saudi aggression forces, despite obtaining permits by the United Nations.
The statement held the United Nations responsible for all crimes resulted from violations by Saudi-led forces and the blockade against Yemen.
The protesters made it clear that these violations are encouraged and are as the result of UN's suspicious silence, which has no justification.
Protesters called on the United Nations, human rights and legal organizations to take human and legal responsibility towards the aggression and genocide that the Yemeni people have been subjected to for nearly five years under suspicious international and UN silence.
The people of Hudaydah also praised the victories of the Army and Popular Committees on all fronts against the forces of aggression.