Ayatollah Khamenei Leads Ritual Prayers at General Soleimani's Funeral (+Video)
January, 06, 2020 - 10:20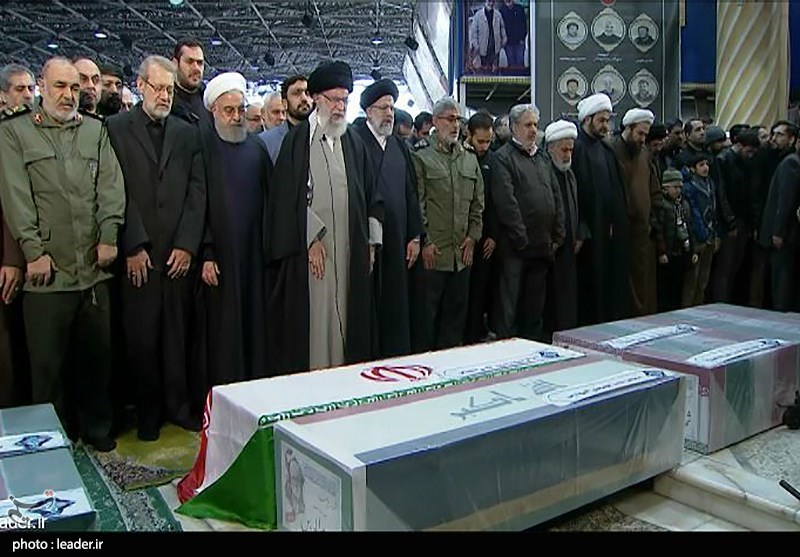 TEHRAN (Tasnim) – Leader of the Islamic Revolution Ayatollah Seyed Ali Khamenei on Monday performed the ritual 'prayer for the deceased' (Salat al-Mayyit) at the funeral of General Qassem Soleimani, the top Iranian commander assassinated in a US attack in Iraq.
A huge crowd of Iranian people from all walks of life attended the funeral of the popular commander in the University of Tehran on Monday morning.
Ayatollah Khamenei broke down in tears several times during the ritual prayer for General Soleimani.
All top Iranian officials, including President Hassan Rouhani, Parliament Speaker Ali Larijani and Judiciary Chief Seyed Ebrahim Raeisi attended the event.
A funeral procession is being held in the streets of Tehran after the prayers.
Three days of mourning have been observed in Iran in honor of the iconic commander.
He will be laid to rest in his home town, Kerman, in south of Iran.
General Soleimani, the deputy head of Iraq's Hashd al-Shaabi, and a number of their entourage were killed in a strike by American drones near Baghdad International Airport in the early hours of Friday.
The White House and the Pentagon confirmed the assassination of General Soleimani in Iraq, saying the attack was carried out at the direction of US President Donald Trump.
In a message on Friday morning, the Leader warned that harsh revenge awaits the criminals behind the martyrdom of General Soleimani.
Ayatollah Khamenei also reminded all friends and enemies of the Iranian general that the resistance path will continue vigorously, stressing that continued battle and ultimate victory will disappoint the murderers and criminals.