Syria Awards Top Medal of Honor to Martyr Soleimani
January, 13, 2020 - 16:07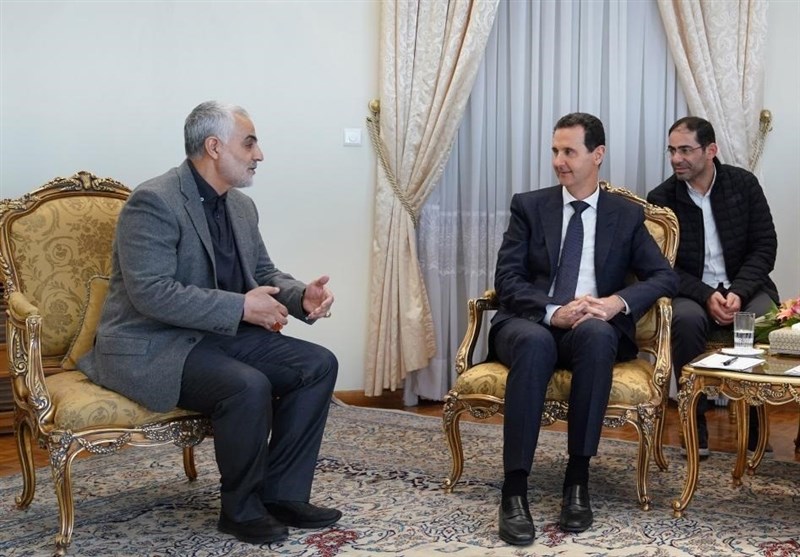 TEHRAN (Tasnim) – Senior Iranian commander Lt. General Qassem Soleimani, who was recently assassinated in a US strike, was posthumously awarded Syria's top medal of honor by the Arab country's President Bashar al-Assad.
Assad has awarded the country's top medal of honor to Lt. General Soleimani, Syrian Prime Minister Imad Khamis announced on Monday.
The Syrian premier unveiled the awarding of the medal at a meeting with Iranian First Vice-President Eshaq Jahangiri in Tehran.
"Awarding this medal reveals the Syrian president's deep affection for General Soleimani and for his brothers in the Islamic Republic of Iran," Khamis said.
Lt. General Soleimani, the deputy head of Iraq's Hashd al-Sha'abi (PMU), and a number of their entourage were killed in a strike by American drones near Baghdad International Airport in the early hours of January 3.
The popular Iranian commander played a prominent role in the fight against Daesh (ISIS) terrorist group in Syria and Iraq.
Following the assassination, people of Syria took to the streets to condemn the terrorist attack on the Iranian commander and praise his efforts in the war on Daesh.
On January 7, a huge crowd of Syrian people gathered in the main square of Aleppo, Sa'adallah Al-Jabri Square, to denounce the US move.
"The martyr (Soleimani) had a role in liberating most of the Syrian territories. He was wherever he needed to be. The free and resistant world has lost one of its men today," a resident of Aleppo said in a mourning service in Aleppo's Rashid Mosque.
In a similar mourning ceremony in Syria's Lattakia on January 10, Chairman of Lattakia's Islamic Endowments Department Sheikh Mohammad Alio said the gathering was a token of loyalty to the martyrs whose sacrifices have significantly contributed to defeating the Zionist-US project in the region and to eliminating terrorist organizations in Syria and Iraq.
In separate comments, Father George Hosh, a senior Christian priest in the Greek Orthodox Diocese of Lattakia, paid tribute to Lt. General Soleimani, stressing that the resistance work has no geographical boundaries and that the blood of the martyrs sprouted many of the resistance fighters who will complete the path until achieving complete victory.