Leader Urges Using Hajj as Opportunity to Promote Iran's Religious Democracy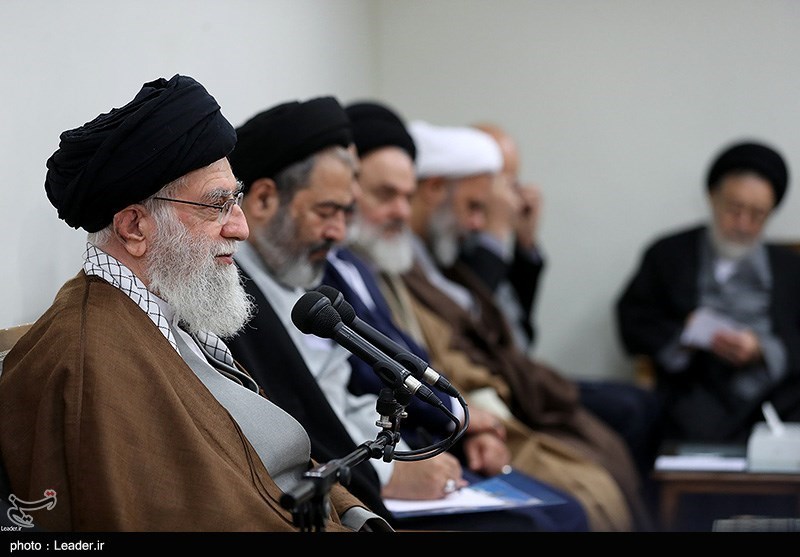 TEHRAN (Tasnim) – Leader of the Islamic Revolution Ayatollah Seyed Ali Khamenei highlighted the importance of the Hajj pilgrimage and urged Iranian officials to use it as an opportunity to promote the Islamic Republic's "religious democracy" in the world.
"The resistance of the Islamic Republic of Iran against America and the Iranian nation's refusal to undergo bullying is a fascinating fact to the world and this fascination should be used to spread the truths about Islam and the Iranian nation," the Leader said in a meeting with a group of Hajj officials in Tehran on Monday.
Ayatollah Khamenei further urged the Hajj officials to take advantage of the Hajj pilgrimage as an opportunity to promote the Islamic Republic's "religious democracy" in the world.
The Leader further hailed the coordination and synergy of various governmental organizations for the magnificent performance of Hajj rituals as "praiseworthy" and emphasized that Hajj is a political, religious and social issue.
"Many countries, however, are unaware of the importance and functions of the Hajj," Ayatollah Khamenei said, adding that the late founder of the Islamic Republic, Imam Khomeini, taught Iranians that Hajj is a serious international issue that is of great benefit to the Islamic Ummah (community).
Referring to the numerous efforts of some world powers to prevent the formation of a united Muslim Ummah, the Leader said, "The Islamic Ummah in its true sense, which would be a coherent unit that acts with a common will and purpose, has not been formed yet."
"Unfortunately, despite the invitation from the well-wishers and sympathizers to the Islamic unity, slanders, conflicts and wars prevail in Islamic countries," the Leader went on to say.
Hajj is a pilgrimage to Mecca that every able-bodied and financially able Muslim is obliged to undertake at least once during their lifetime.
In 2019, some 88,500 Iranians made the pilgrimage.