Iran's IRGC Rejects US Claim on Weapons Cache in Gulf of Aden
TEHRAN (Tasnim) – Deputy Commander of the Islamic Revolution Guards Corps (IRGC) for Coordination Rear Admiral Ali Fadavi said the US is trying to make up for its defeats in the Middle East by accusing Iran of sending weapons to war-stricken Yemen.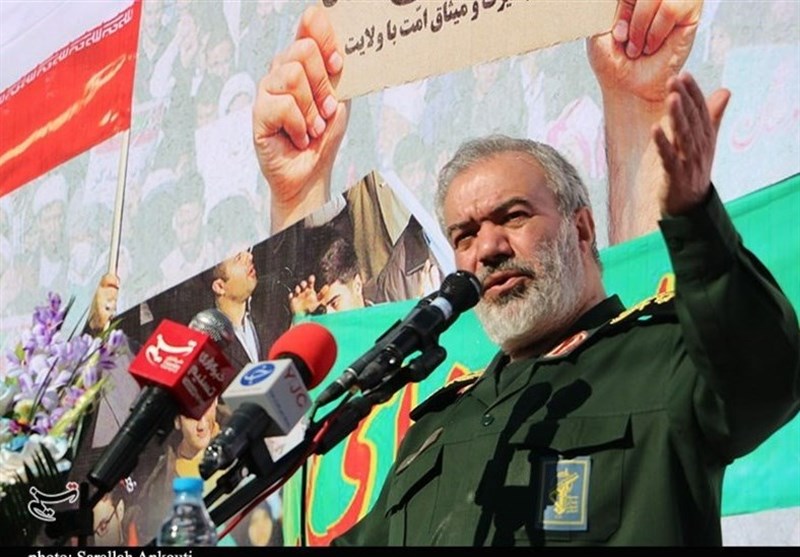 Fadavi on Saturday shrugged off a recent claim by the US Navy that it had seized advanced weapons believed to be of Iranian "design and manufacture" intended for the Houthi forces in Yemen and said, "The Americans occasionally raise such issues to justify their defeats in Yemen."
"It is possible that Yemenis may buy weapons from abroad and import them to their country," he said, adding that this issue is related only to the Yemenis.
However, the accusations that the Americans level against other countries are a disgrace to them, the top commander went on to say.
In a statement on Thursday, the US Navy said the weapons cache were seized in the Arabian Sea aboard a stateless dhow sailing vessel during a maritime interdiction operation on February 9.
"Other weapons components seized aboard the dhow were of Iranian design and manufacture and included three Iranian surface-to-air missiles, Iranian thermal-imaging weapon scopes, and Iranian components for unmanned aerial and surface vessels," the February 13 statement said.
It did not say what kind of surface-to-air missiles were seized.
Yemen's defenseless people have been under massive attacks by a US-backed coalition led by the Saudi regime for almost five years but Riyadh has reached none of its objectives in Yemen so far.
Since March 2015, Saudi Arabia and some of its Arab allies have been carrying out deadly airstrikes against the Houthi Ansarullah movement in an attempt to restore power to fugitive former president Abd Rabbuh Mansour Hadi, a close ally of Riyadh.
The death toll in Yemen's war since 2015 has reached 100,000, according to a highly regarded database project that tracks the conflict.
The Armed Conflict Location and Event Data project (Acled), which tracks confirmed fatalities in the conflict and is seen as reliable, said the figure included 12,000 civilian deaths in directly targeted attacks. It said 20,000 people had been reported killed in 2019, making it the second deadliest year of the war after 2018.