Iran Ready to Hold Joint Naval Drill with Azerbaijan: Commander
February, 27, 2020 - 11:21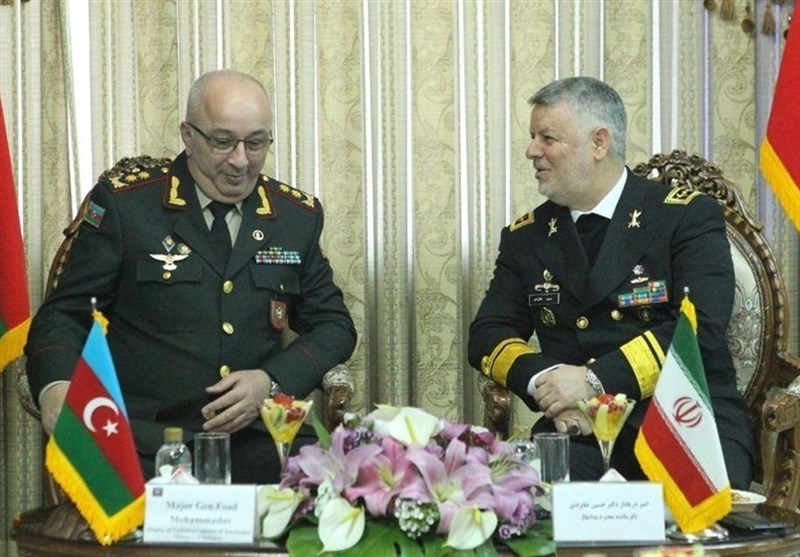 TEHRAN (Tasnim) – Iranian Navy Commander Rear Admiral Hossein Khanzadi expressed the country's readiness to hold a joint naval exercise with the Republic of Azerbaijan in the Caspian Sea.
In a meeting with Deputy Defense Minister of the Republic of Azerbaijan Lieutenant General Fuad Nadir Mammadov, held in Tehran on Wednesday, Rear Admiral Khanzadi pointed to a trilateral naval exercise among Iran, Russia and China in late December, saying, "The Islamic Republic of Iran voices readiness for a naval war game between the navies of Iran and (the Republic of) Azerbaijan at various tactical levels."
He also pointed to the suitable grounds for the expansion of naval cooperation between Tehran and Baku, saying the two neighbors can work on plans to exchange naval cadets and arrange reciprocal visits by naval flotillas.
Khanzadi further highlighted the Iranian Navy's great capabilities in the production and maintenance of naval vessels, saying Iran is ready to share its experiences with Azerbaijan.
For his part, the Azeri deputy defense minister pointed to the ample opportunities for naval cooperation between the two countries, saying Baku tries to make "great strides" boosting the cooperation within the next year and before the third meeting of the Iran-Azerbaijan Joint Commission.
Mammadov also invited the Iranian Army commander to pay a visit to the Republic of Azerbaijan.
Iran and Azerbaijan have ramped up efforts in recent years to forge a closer partnership in various areas.
In October 2019, Iranian President Hassan Rouhani and his Azeri counterpart, Ilham Aliyev, met in Baku on the sidelines of the 18th Summit of Non-Aligned Movement (NAM).
In 2016, Aliyev paid an official visit to Tehran, during which the two sides signed 11 memorandums of understanding and agreements to promote mutual cooperation in a range of areas.