IRGC Combatting Coronavirus in Iran with All Its Power: Commander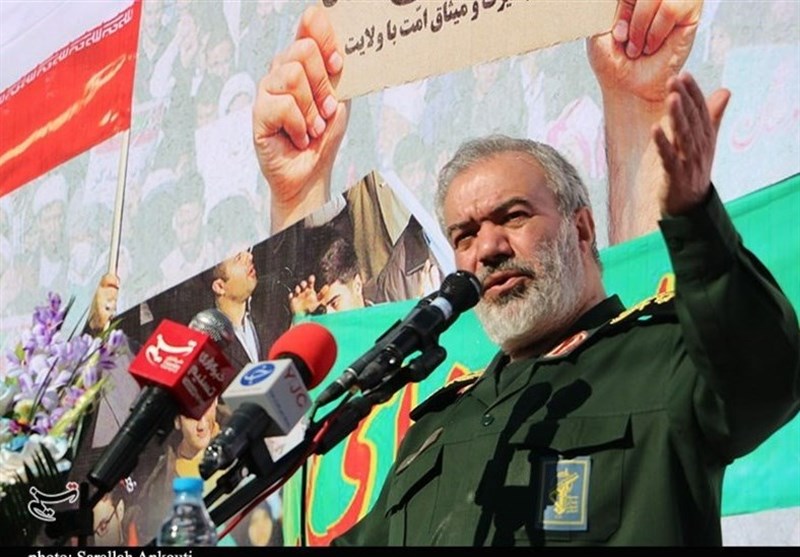 TEHRAN (Tasnim) – Deputy Commander of the Islamic Revolution Guards Corps for Coordination Rear Admiral Ali Fadavi said the IRGC forces have stepped up to the plate with all their power to combat the coronavirus outbreak in Iran.
Addressing a ceremony on Sunday to introduce the new commander of the IRGC Neynava Unit in the northeastern province of Golestan, which was held via video conference due to the coronavirus outbreak, Rear Admiral Fadavi said it is the first time that such a ceremony is held via video conference, adding that after containing the virus, he will meet with the new commander in person.
"The IRGC is siding with the people with all its power," the commander said, stressing that the forces would try their hardest to put an end to the crisis based on the instruction of the Commander-in-Chief of the Armed Forces, Ayatollah Seyed Ali Khamenei.
"Given the spread of the coronavirus in the northern part of the country, the commander of our corps in Golestan… should have presence on the scene and address the public concerns," he further said.
In an instruction to Chief of Staff of the Iranian Armed Forces Major General Mohammad Hossein Baqeri on Thursday, Ayatollah Khamenei praised the services of the Armed Forces provided for the people to counter the novel coronavirus and stressed the need to organize the services through establishing "a health and treatment base".
"The division of duties and missions of the organizations and departments of the Armed Forces would be one of the tasks of this base," Ayatollah Khamenei stated.
"It (the health base) should work in full coordination with the administration and the Ministry of Health," the Leader added.
"Given that there is evidence that raises the possibility of this event being a biological attack, this measure can also be an exercise in biological defense and increase national power and might," Ayatollah Khamenei said.