Iranian Army Enhancing Anti-Coronavirus Activities in Nationwide Drill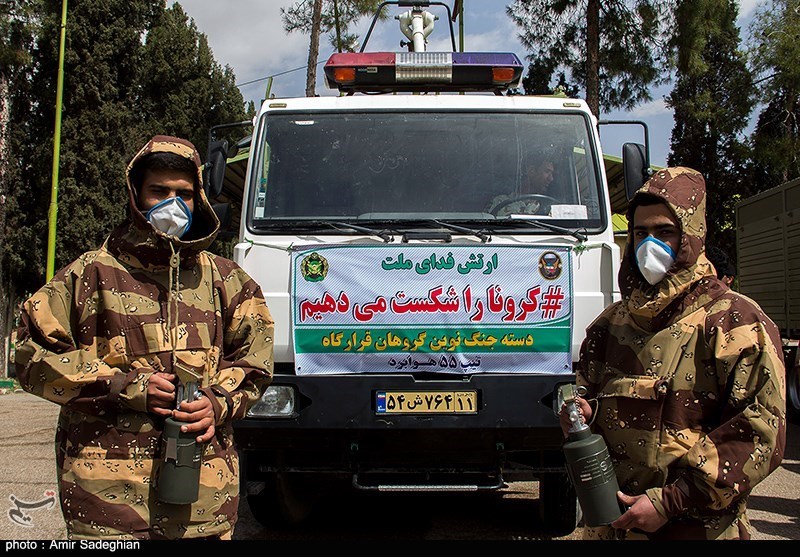 TEHRAN (Tasnim) – Commander of Iran's Army Ground Force said his forces have employed modern equipment in an ongoing countrywide exercise to contain the novel coronavirus epidemic, noting that the Army troops are screening people at the entries of the most contaminated provinces.
Speaking to Tasnim on Friday, Brigadier General Kiomars Heidari said the Army Ground Force has focused its efforts on preventing the spread of COVID-19 by using modern and homegrown equipment.
Highlighting the plans carried out by the Army forces across Iran, the commander said the troops have been stationed at the entries of the target provinces, including Qom and Gilan, to screen the people for coronavirus and disinfect all vehicles entering those regions.
The Army Ground Force has been disinfecting public places in 262 cities across Iran, the general noted, adding that his forces have also set up 420 control and screen posts in the neighborhoods of the big cities.
Brigadier General Heidari went on to say that the Army Ground Force's hospitals are the Health Ministry's disposal for the treatment of coronavirus patients, saying 28 other field hospitals have been also established to handle the situation.
The war game will continue until the coronavirus is eradicated from Iran, he underlined.
On March 12, Leader of the Islamic Revolution Ayatollah Seyed Ali Khamenei cited clues to a possible "biological attack" on Iran in the outbreak of the novel coronavirus, ordering the Armed Forces to set up a "health and medical base" to organize the efforts to prevent the spread of the disease.
The Leader assigned the Armed Forces to work on the necessary methods to prevent a further spread of coronavirus, in addition to the other activities such as treatment of patients and establishment of medical centers like field hospitals and convalescent homes.