US Sanctions Serving Coronavirus, Detrimental to Entire World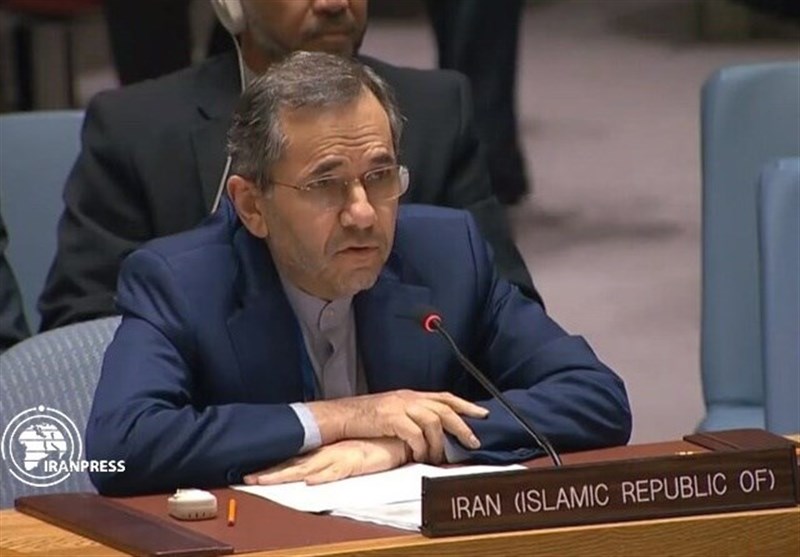 TEHRAN (Tasnim) – Iran's ambassador to the United Nations stressed the need for the removal of the US' unilateral sanctions for an effective global battle with the coronavirus, saying those sanctions harm the whole world amid the efforts to contain the pandemic.
The Iranian envoy on Tuesday sent a letter to the president of the United Nations General Assembly to highlight the harmful effects of the US sanctions after the General Assembly adopted the 'Global Solidarity to Fight the Coronavirus Disease 2019' resolution on April 2.
In his letter, Majid Takht Ravanchi said the unilateral sanctions imposed by the US are to the benefit of the coronavirus and to the detriment of the entire world.
He stressed that while the coronavirus has plagued all parts of the world, it is necessary for all countries to close ranks and enhance international solidarity and cooperation in the fight against the virus.
The Iranian ambassador said the inhumane sanctions imposed by the US have impeded the target countries' battle with COVID-19. "Such conditions are detrimental not only to the citizens of those countries, but also to the global fight against the coronavirus and to the health of all people in the globe."
He also emphasized that the removal of the US' unlawful sanctions is a necessity in the course of global efforts to contain the novel coronavirus.
Takht Ravanchi deplored the US government's ignorance of the calls from the UN Secretary-General, the WHO Director-General, the UN High Commissioner for Human Rights, world leaders, NGOs, and civil societies for lifting the sanctions, saying Washington has even intensified some of those unilateral sanctions.
Iran has intensified diplomatic efforts in recent weeks to persuade the other countries to defy the US sanctions against Iran which have hampered the efforts to control the coronavirus epidemic.
In March, Foreign Minister Mohammad Javad Zarif sent a letter to UN Secretary-General Antonio Guterres, denouncing the US' sanctions as a major obstacle to the Islamic Republic's fight against the coronavirus and urging that such unilateral and illegal sanctions should end.
Zarif emphasized in the letter that despite Iran's scientific capabilities and the commitment that the country's health system has shown to the fight against the coronavirus outbreak, the US' sanctions on legal trade and the preconditions that the United States' authorities have set recently in order to prevent the sale of medicine, medical equipment and humanitarian supplies have posed serious obstacles to the efforts to battle against the COVID-19 outbreak in Iran.